A photo provided by the Ukrainian President's office appears to show an explosion in the country's capital, Kyiv, early Thursday, February 24.Ukrainian President's Office
After months of military buildup and brinkmanship on Ukraine's border, Russian President Vladimir Putin announced a military operation in the Donbas region of Ukraine on Thursday.
Earlier this week, Putin ordered troops into separatist-held parts of eastern Ukraine in what the Kremlin called a "peacekeeping" mission, just hours after he signed decrees recognizing the independence of the Moscow-backed regions.
European countries and the United States have begun rolling out sanctions in response to Russia's actions. A whirlwind of diplomatic efforts in recent weeks has so far failed to defuse tensions in the region.
Russia has been tightening its military grip around Ukraine since last year, amassing tens of thousands of soldiers, as well as equipment and artillery, on the country's doorstep.
The escalation in the years-long conflict has triggered the greatest security crisis on the European continent since the Cold War, raising the specter of a dangerous showdown between Western powers and Moscow.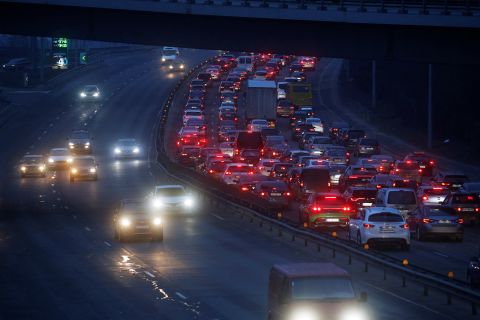 Heavy traffic is seen exiting Kyiv on February 24.Valentyn Ogirenko/Reuters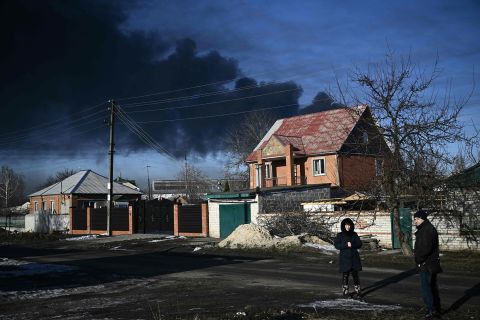 Smoke rises near a military airport outside of Kharkiv on February 24. A CNN team in Kharkiv, Ukraine's second-biggest city, heard a "steady stream of loud explosions."Aris Messinis/AFP/Getty Images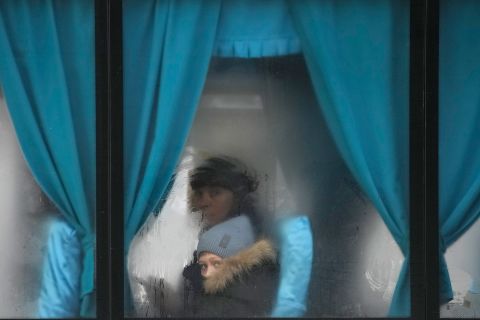 A woman and child peer out the window of a bus in Sievierodonetsk on February 24 after the Ukrainian-controlled part of the Luhansk region announced a general evacuation.Vadim Ghirda/AP
People in Moscow watch a televised address by Russian President Vladimir Putin as he announces a military operation in the Donbas region of eastern Ukraine on February 24.Sergei Illnitsky/EPA-EFE/Shutterstock
An emergency UN Security Council meeting is held in New York to discuss the ongoing crisis on Wednesday, February 23.Timothy A. Clary/AFP/Getty Images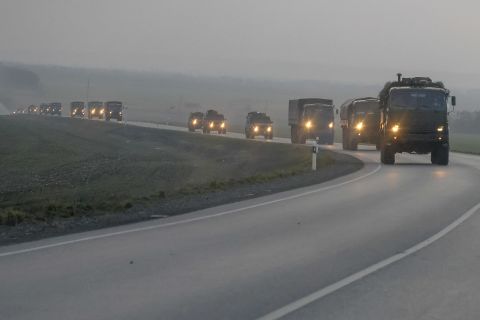 A convoy of Russian military vehicles is seen on February 23 in the Rostov region of Russia, which runs along Ukraine's eastern border.Anadolu Agency/Getty Images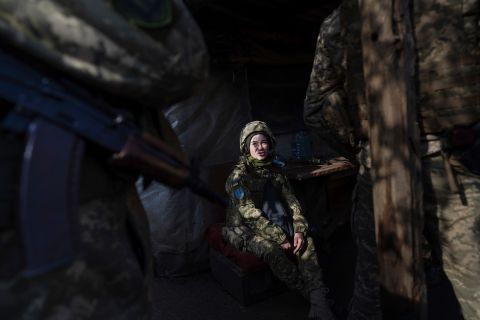 Ukrainian soldiers talk in a shelter at the front line near Svitlodarsk, Ukraine, on February 23.Evgeniy Maloletka/AP
Smoke rises from a damaged power plant in Shchastya that Ukrainian authorities say was hit by shelling on Tuesday, February 22. Amid continuing reports of ceasefire violations, the Ukrainian Defense Ministry said the town of Shchastya has sustained some of the heaviest shelling.Tyler Hicks/The New York Times/Redux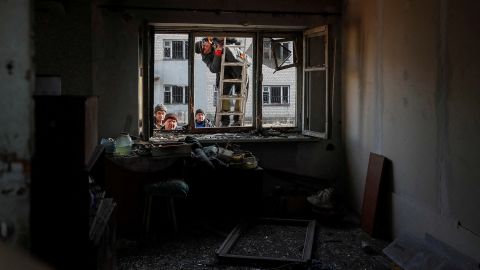 A damaged house is worked on after shelling near the front-line city of Novoluhanske in Ukraine's Donetsk region on February 22.Gleb Garanich/Reuters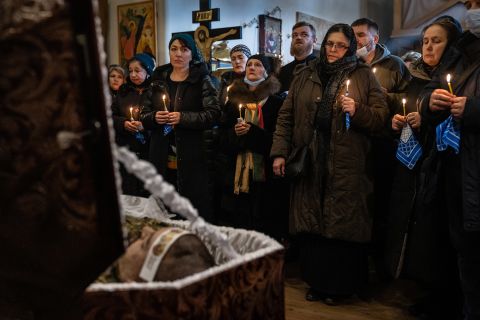 Mourners gather at a church in Kyiv on February 22 for the funeral of Ukrainian Army Capt. Anton Sydorov. The Ukrainian military said he was killed by a shrapnel wound on February 19 after several rounds of artillery fire were directed at Ukrainian positions near Myronivske.Timothy Fadek/Redux for CNN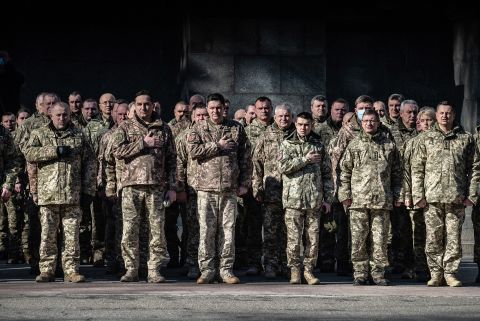 Ukrainian soldiers pay their respects during Sydorov's funeral in Kyiv on February 22.Timothy Fadek/Redux for CNN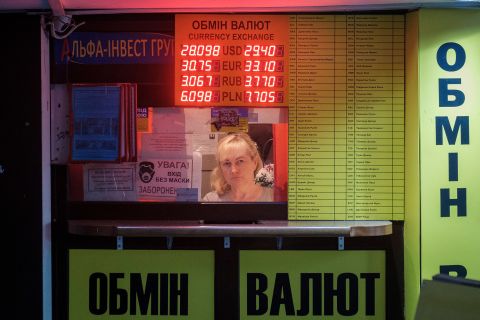 A sign displays conversion rates at a currency exchange kiosk in Kyiv on February 22. Global markets tumbled the day after Russian President Vladimir Putin ordered troops into parts of eastern Ukraine.Christopher Occhicone/Bloomberg/Getty Images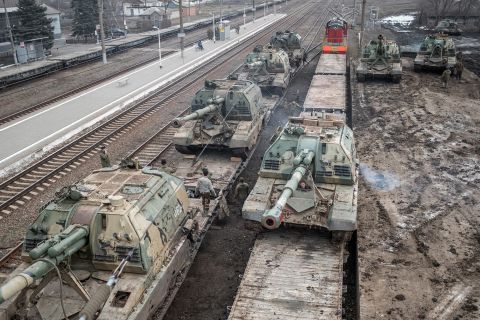 Russian howitzers are loaded onto train cars near Taganrog, Russia, on February 22.The New York Times/Redux
People who left a separatist-held region in eastern Ukraine watch an address by Putin from their hotel room in Taganrog, Russia, on Monday, February 21. Putin blasted Kyiv's growing security ties with the West, and in lengthy remarks about the history of the USSR and the formation of the Ukrainian Socialist Soviet Republic, he appeared to cast doubt on Ukraine's right to self-determination.Sergey Ponomarev/The New York Times/Redux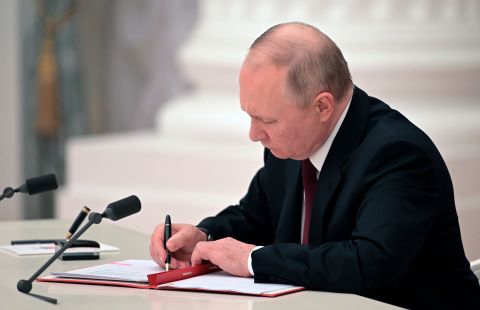 Putin signs decrees recognizing the Donetsk People's Republic and the Luhansk People's Republic in a ceremony in Moscow on February 21. Earlier in the day, the heads of the self-proclaimed pro-Russian republics requested the Kremlin leader recognize their independence and sovereignty. Members of Putin's Security Council supported the initiative in a meeting earlier in the day.Alexei Nikolsky/Sputnik/Kremlin/Pool/AP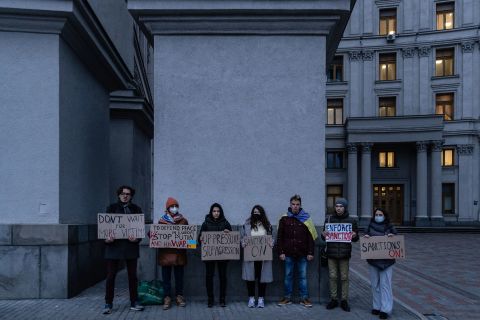 Protesters demanding economic sanctions against Russia stand outside the Ministry of Foreign Affairs in Kyiv on February 21. Only a small number of protesters showed up to demonstrate.Timothy Fadek/Redux for CNN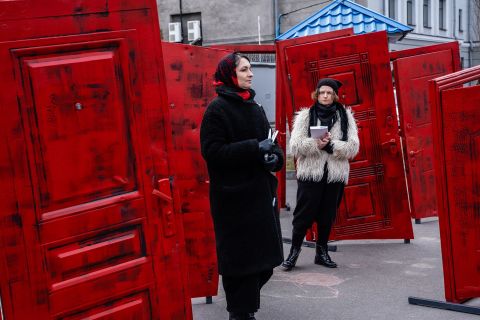 Activists hold a performance in front of the Russian embassy in Kyiv on February 21 in support of prisoners who were arrested in Crimea. They say the red doors are a symbol of the doors that were kicked in to search and arrest Crimean Tatars, a Muslim ethnic minority.Timothy Fadek/Redux for CNN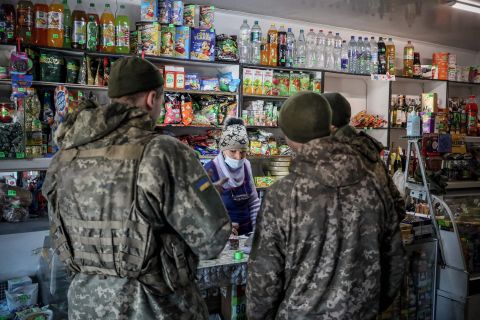 Ukrainian servicemen shop in the front-line town of Avdiivka, Ukraine, on February 21.Aleksey Filippov/AFP/Getty Images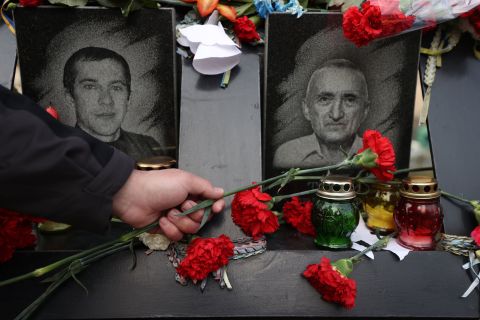 People lay flowers at the Motherland Monument in Kyiv on February 21.Ali Atmaca/Anadolu Agency/Getty Images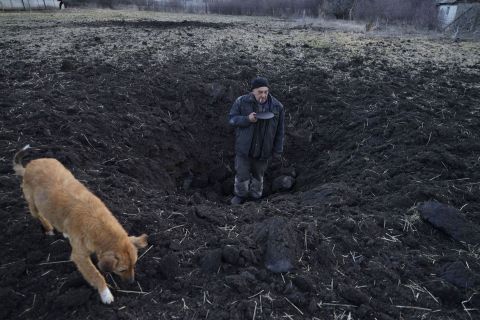 A local resident shows the depth of a crater from shelling in a field behind his house in the village of Tamarchuk, Ukraine, on Sunday, February 20.Stanislav Kozliuk/EPA-EFE/Shutterstock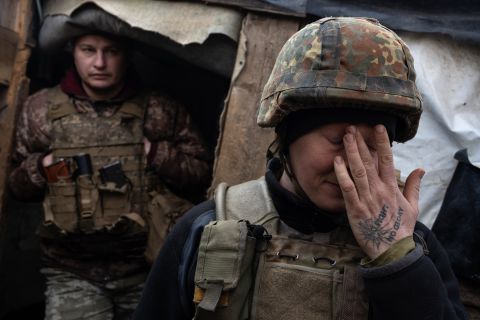 Ukrainian service members are seen along the front line outside of Popasna, Ukraine, on February 20. Wolfgang Schwan/Anadolu Agency/Getty Images
People evacuated from the pro-Russian separatist regions of Ukraine are seen at a temporary shelter in Taganrog, Russia, on February 20.Sergey Ponomarev/The New York Times/Redux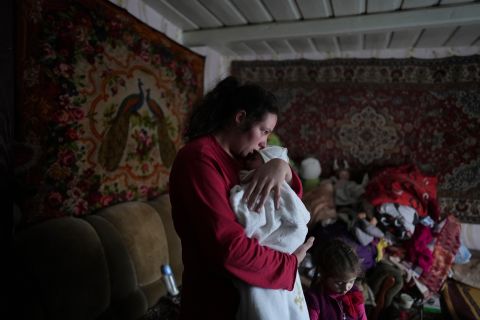 Anastasia Manha lulls her 2-month-old son Mykyta after alleged shelling by separatists forces in Novohnativka, Ukraine, on February 20. Evgeniy Maloletka/AP
A Ukrainian soldier stays on position on the front line near Novohnativka on February 20. Anatolii Stepanov/AFP/Getty Images
A couple arrives at the city council to get married in Odessa, Ukraine, on February 20. As Ukrainian authorities reported further ceasefire violations and top Western officials warned about an impending conflict, life went on in other parts of the country.Emilio Morenatti/AP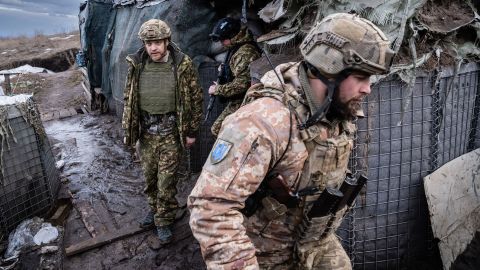 Ukrainian Interior Minister Denys Monastyrskiy, left, visits soldiers at a front-line position in Novoluhanske on Saturday, February 19. Minutes after he left, the position came under fire. No one was injured.Timothy Fadek/Redux for CNN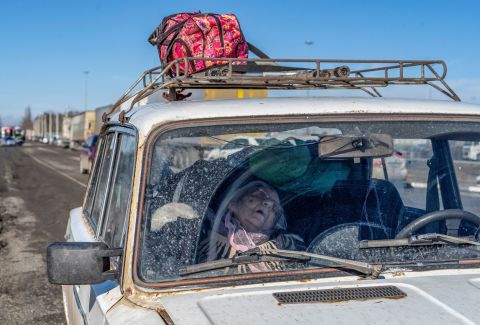 A woman rests in a car near a border checkpoint in Avilo-Uspenka, Russia, on February 19.Andrey Borodulin/AFP/Getty Images
Residents of the breakaway Donetsk state sign up for evacuation to Russia on February 19. The evacuation orders were given Friday by pro-Russian separatist leaders in eastern Ukraine's breakaway regions, who claimed they were necessary because of an imminent offensive by the Ukrainian army. Ukrainian officials have repeatedly denied any such plans and accused the separatists of launching a "disinformation campaign." The restive eastern part of the country has witnessed the worst shelling in years in recent days, with Ukraine and Russia accusing the other of heavy shelling of civilian areas.AFP/Getty Images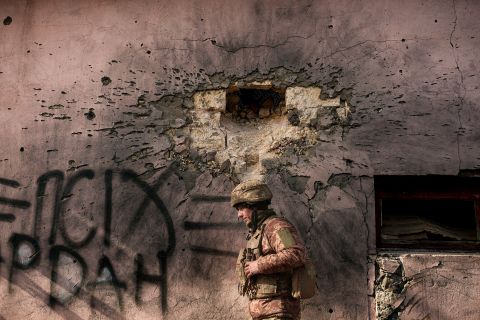 A Ukrainian service member walks by a building on February 19 that was hit by mortar fire in the front-line village of Krymske, Ukraine.Vadim Ghirda/AP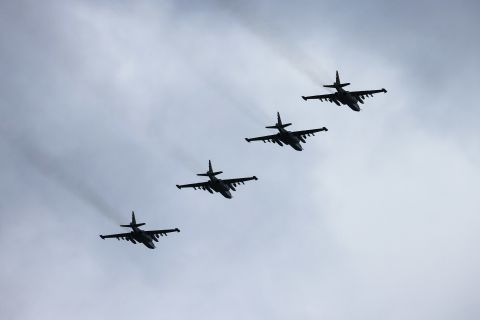 Fighter jets fly over Belarus during a joint military exercise the country held with Russia on February 19.Peter Kovalev/TASS/Getty Images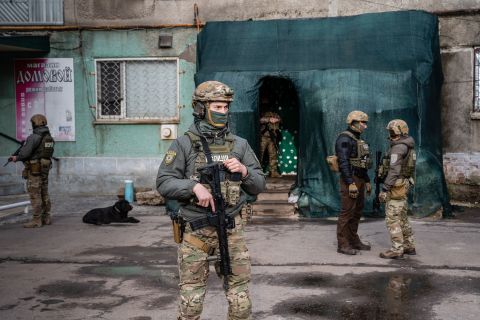 Soldiers stand guard at a military command center in Novoluhanske on February 19.Timothy Fadek/Redux for CNN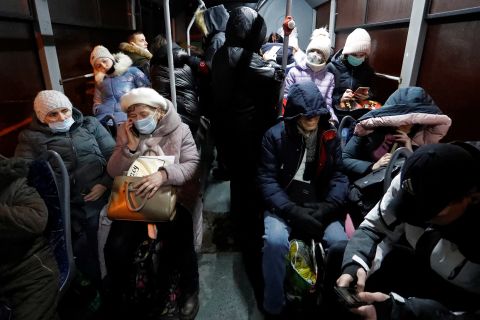 People sit on a bus in Donetsk in eastern Ukraine on Friday, February 18, after they were ordered to evacuate to Russia by pro-Russian separatists.Alexander Ermochenko/Reuters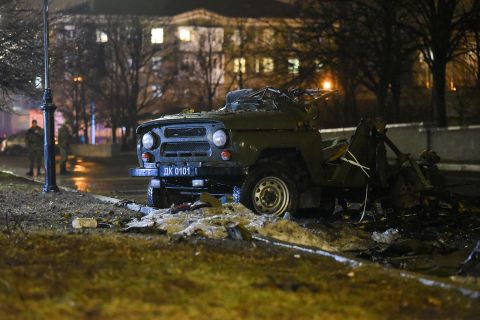 The remains of a military vehicle are seen in a parking lot outside a government building following an explosion in Donetsk on February 18. Ukrainian and US officials said the vehicle explosion was a staged attack designed to stoke tensions in eastern Ukraine.Nikolai Trishin/TASS/Getty Images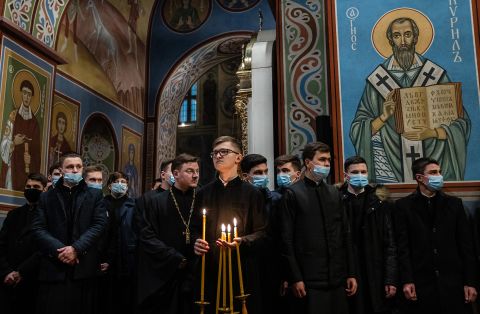 A memorial service and candlelight vigil is held at the St. Michael's Golden-Domed Monastery in Kyiv on February 18. They honored those who died in 2014 while protesting against the government of President Viktor Yanukovych, a pro-Russian leader who later fled the country.Timothy Fadek/Redux for CNN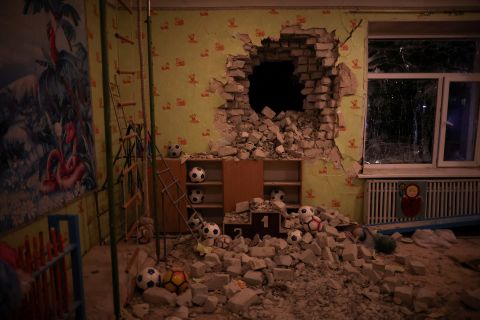 A kindergarten that officials say was damaged by shelling is seen in Stanytsia Luhanska, Ukraine, on Thursday, February 17. No lives were lost, but it was a stark reminder of the stakes for people living near the front lines that separate Ukrainian government forces from Russian-backed separatists.Carlos Barria/Reuters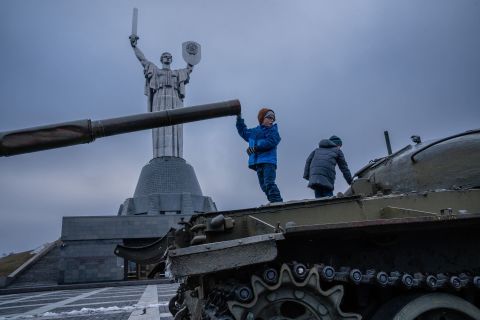 Children play on old Soviet tanks in front of the Motherland Monument in Kyiv on Wednesday, February 16.Timothy Fadek/Redux for CNN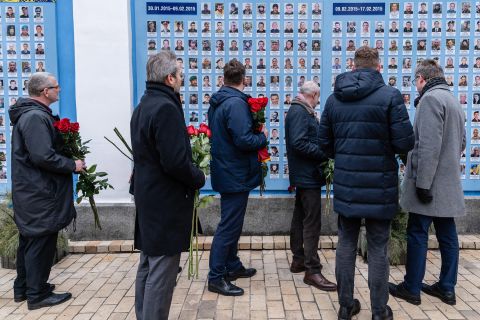 Ambassadors of European countries lay roses at the Wall of Remembrance in Kyiv on February 16. The wall contains the names and photographs of military members who have died since the conflict with Russian-backed separatists began in 2014.Timothy Fadek/Redux for CNN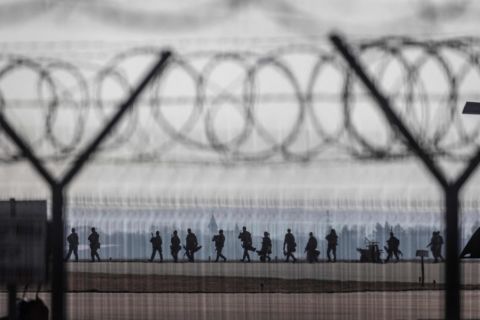 US troops walk on the tarmac at the Rzeszów-Jasionka Airport in southeastern Poland on February 16. US paratroopers landed in Poland as part of a deployment of several thousand sent to bolster NATO's eastern flank in response to tensions with Russia.Wojtek Radawanski/AFP/Getty Images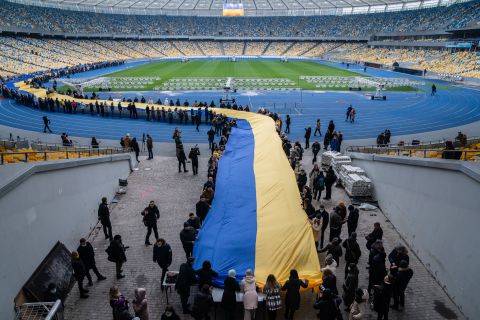 A 200-meter-long Ukrainian flag is unfolded at the Olympic Stadium in Kyiv on February 16 to mark a "Day of Unity," an impromptu celebration declared by President Volodymyr Zelensky.Timothy Fadek/Redux for CNN
Travelers wait in line to check in to their departing flights Tuesday, February 15, at the Boryspil International Airport outside Kyiv. US President Joe Biden has urged Americans in Ukraine to leave the country, warning that "things could go crazy quickly" in the region.Timothy Fadek/Redux for CNN
A Ukrainian serviceman carries an anti-tank weapon during an exercise in the Donetsk region of eastern Ukraine on February 15.Vadim Ghirda/AP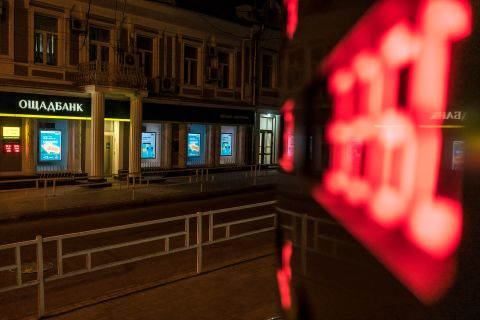 A location of Oschadbank, a state-owned bank, is seen in Kyiv on February 15. The websites of Oschadbank and PrivatBank, the country's two largest banks, were hit by cyberattacks that day, as were the websites of Ukraine's defense ministry and army, according to Ukrainian government agencies.Brendan Hoffman/The New York Times/Redux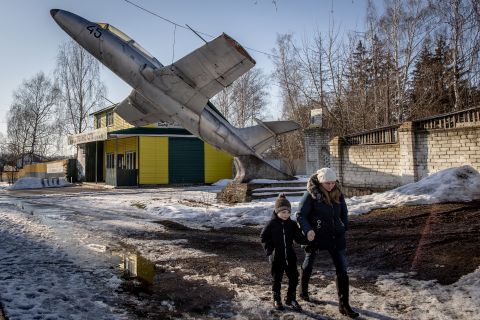 A woman and child walk underneath a military monument in Senkivka, Ukraine, on Monday, February 14. It's on the outskirts of the Three Sisters border crossing between Ukraine, Russia and Belarus.Chris McGrath/Getty Images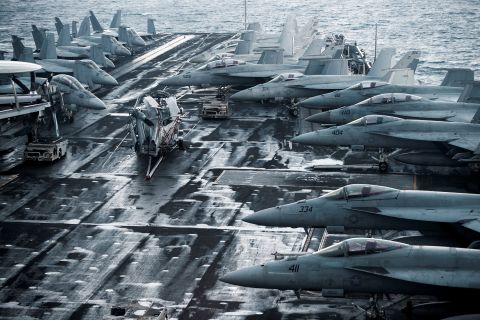 F/A-18E and 18F Super Hornets are seen on the flight deck of the USS Harry S. Truman, an American aircraft carrier in the Adriatic Sea on February 14. The Truman was on its way to the Middle East in mid-December, but the Pentagon decided to keep it in Europe as tensions began to escalate.Milan Sabic/Reuters
Ukrainian service members talk at a front-line position in eastern Ukraine on February 14. Vadim Ghirda/AP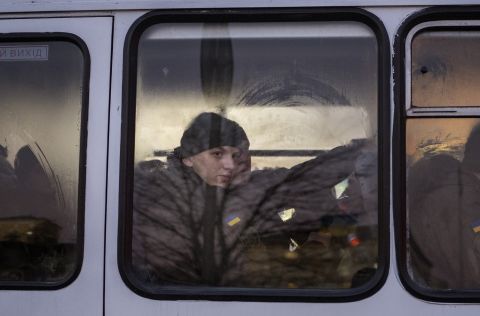 Members of Ukraine's National Guard look out a window as they ride a bus through the capital of Kyiv on February 14.Emilio Morenatti/AP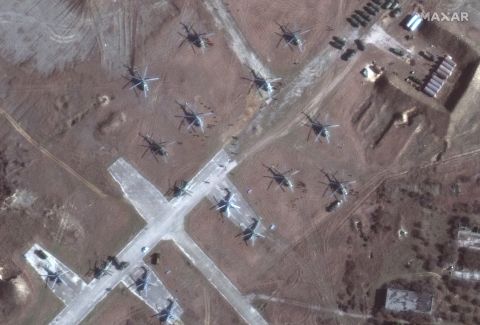 Satellite images taken on February 13 by Maxar Technologies revealed that dozens of helicopters had appeared at a previously vacant airbase in Russian-occupied Crimea.Satellite image ©2022 Maxar Technologies
The Russian navy's diesel-electric Kilo-class submarine, Rostov-on-Don, moves through Turkey's Bosphorus Strait en route to the Black Sea on February 13.Ozan Kose/AFP/Getty Images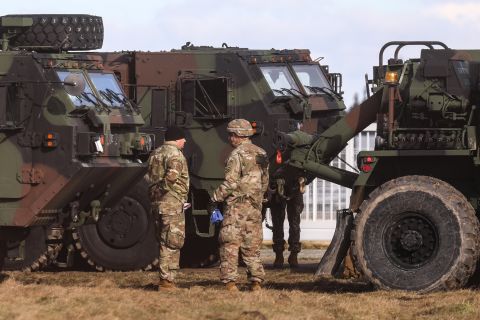 US soldiers and military vehicles are seen at a military airport in Mielec, Poland, on February 12. The White House approved a plan for the nearly 2,000 US troops in Poland to help Americans who may try to evacuate Ukraine if Russia invades, according to two US officials familiar with the matter.Beata Zawrzel/NurPhoto/Getty Images
An anti-war demonstration takes place in Kyiv's Independence Square on February 12.Timothy Fadek/Redux for CNN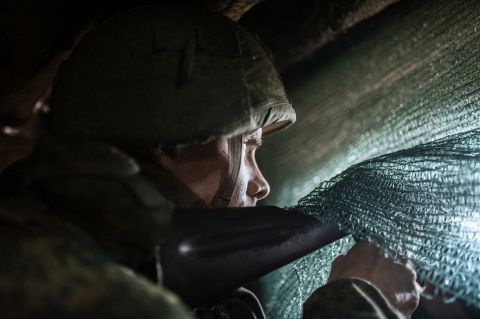 Pro-Russian separatists observe the movement of Ukrainian troops from trenches in Ukraine's Donbas area on February 11.Svetlana Kisileva/Abaca/Sip/AP
Ukrainian service members unpack Javelin anti-tank missiles that were delivered to Kyiv on February 10 as part of a US military support package for Ukraine.Valentyn Ogirenko/Reuters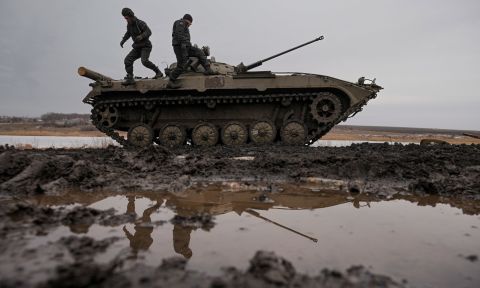 Ukrainian service members walk on an armored fighting vehicle during a training exercise in eastern Ukraine's Donetsk region on February
SOURCE: CNN