The Grammy Awards have a reputation for attracting bolder, riskier, and more eye-popping fashion than almost any other major award ceremony — and the stars didn't disappoint as they arrived on the red carpet Sunday evening.
Held in Las Vegas for the very first time, the event's 64th edition was initially slated for January but was postponed due to Covid-19. But the pandemic felt like a distant memory as mask-less celebrities showed up sporting elaborate outfits, fun accessories, and freshly dyed hairdos.
Scroll down to see some of the standout looks on the red carpet.
Lil Nas X wore an embroidered custom suit by Balmain. Credit: Lester Cohen/Getty Images for The Recording Academy
Michelle Zauner of Japanese Breakfast wore a bright yellow Valentino dress, completing the look with elaborate nail art. Credit: Frazer Harrison/Getty Images for The Recording Academy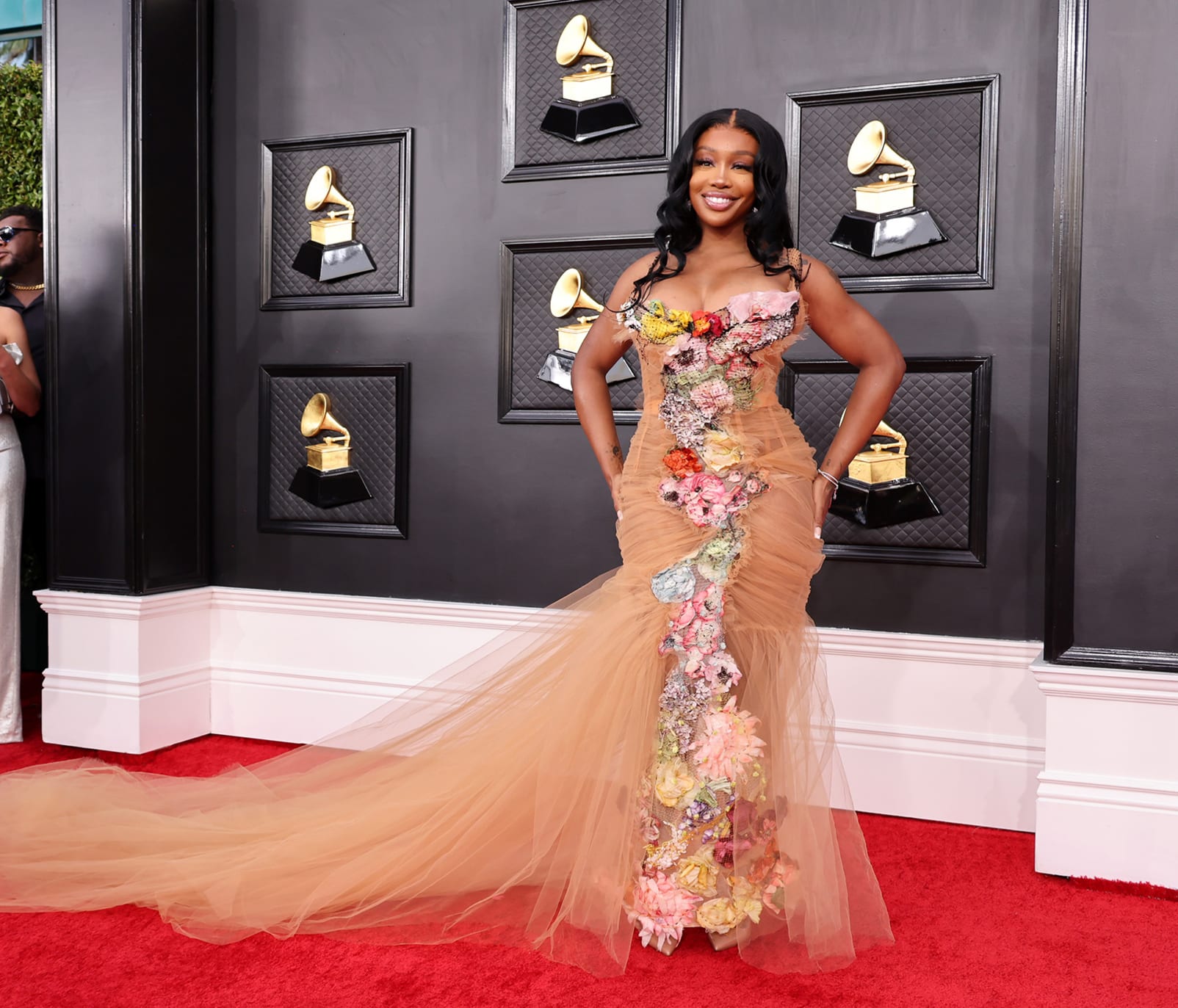 SZA stood out with a sheer, tulle Jean Paul Gaultier gown adorned with fllowers. Credit: Amy Sussman/Getty Images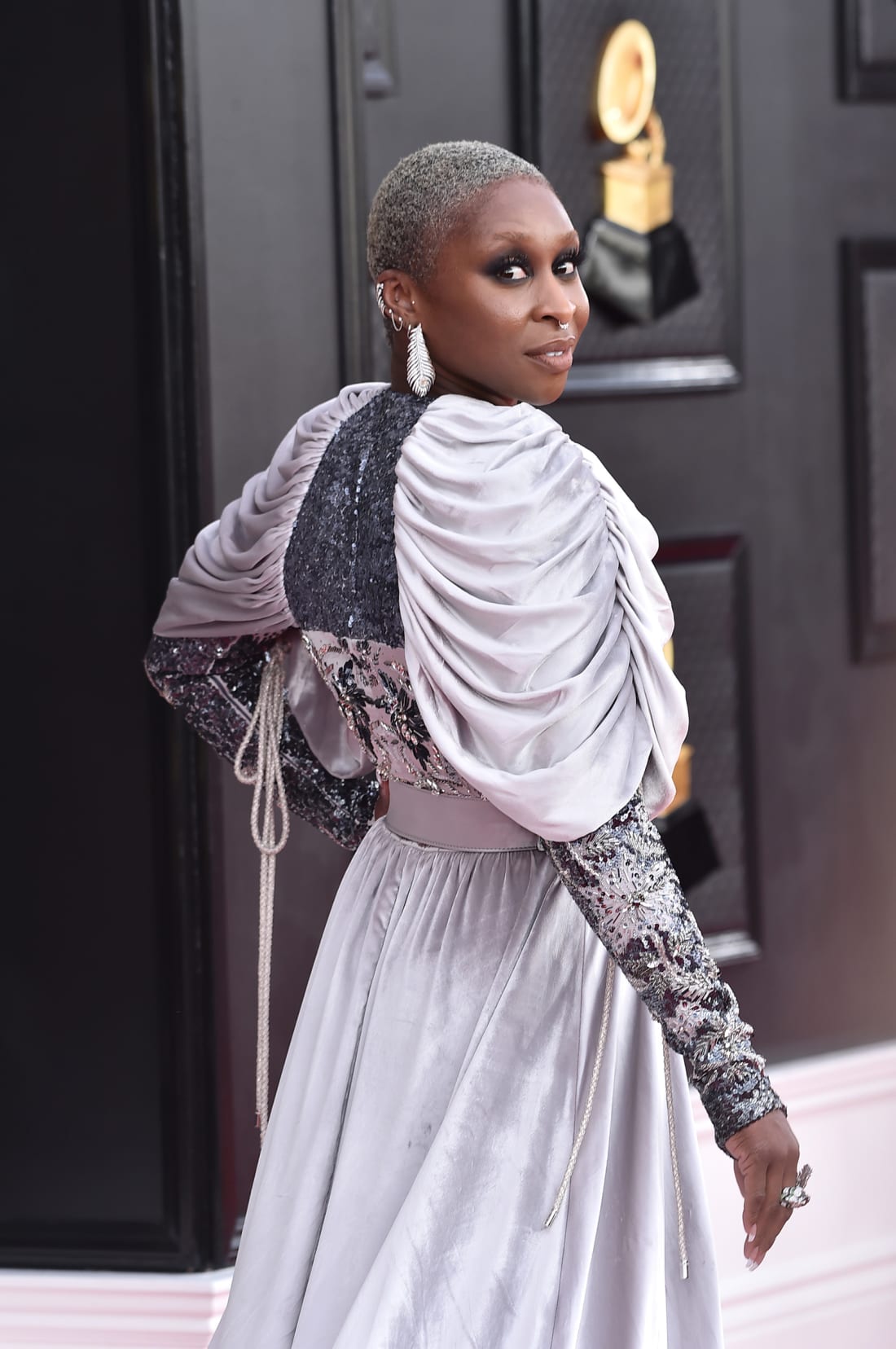 Cynthia Erivo channeling a metallic look in a custom Louis Vuitton ensemble with shoulders draped in velvet and satin. Credit: Jordan Strauss/Invision/AP
Lady Gaga kept it old Hollywood in a black and white gown from Armani Privé. Credit: Amy Sussman/Getty Images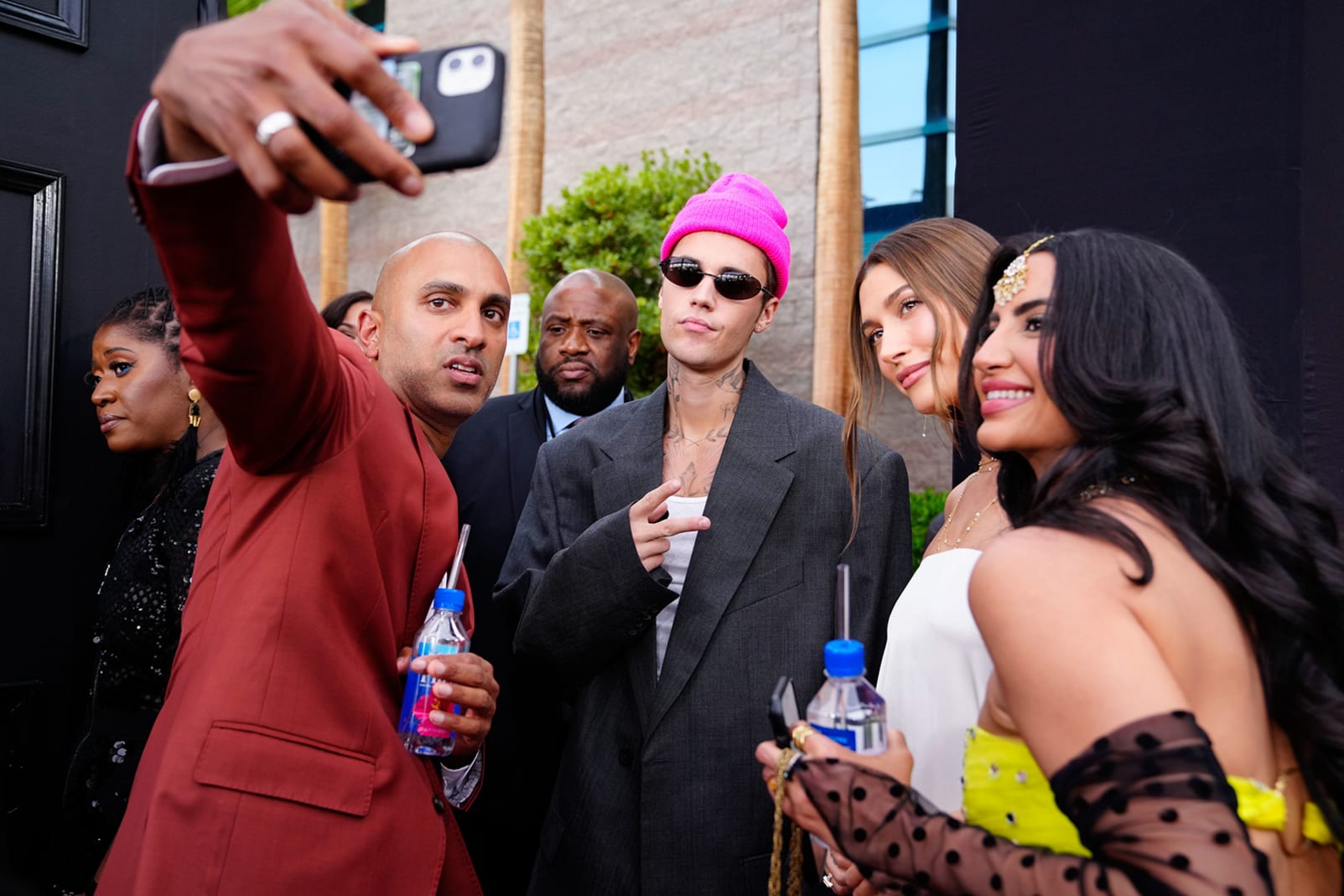 Justin Bieber (center) wore an oversized suit and hot pink beanie. Credit: Eric Jamison/CBS Photo Archive/Getty Images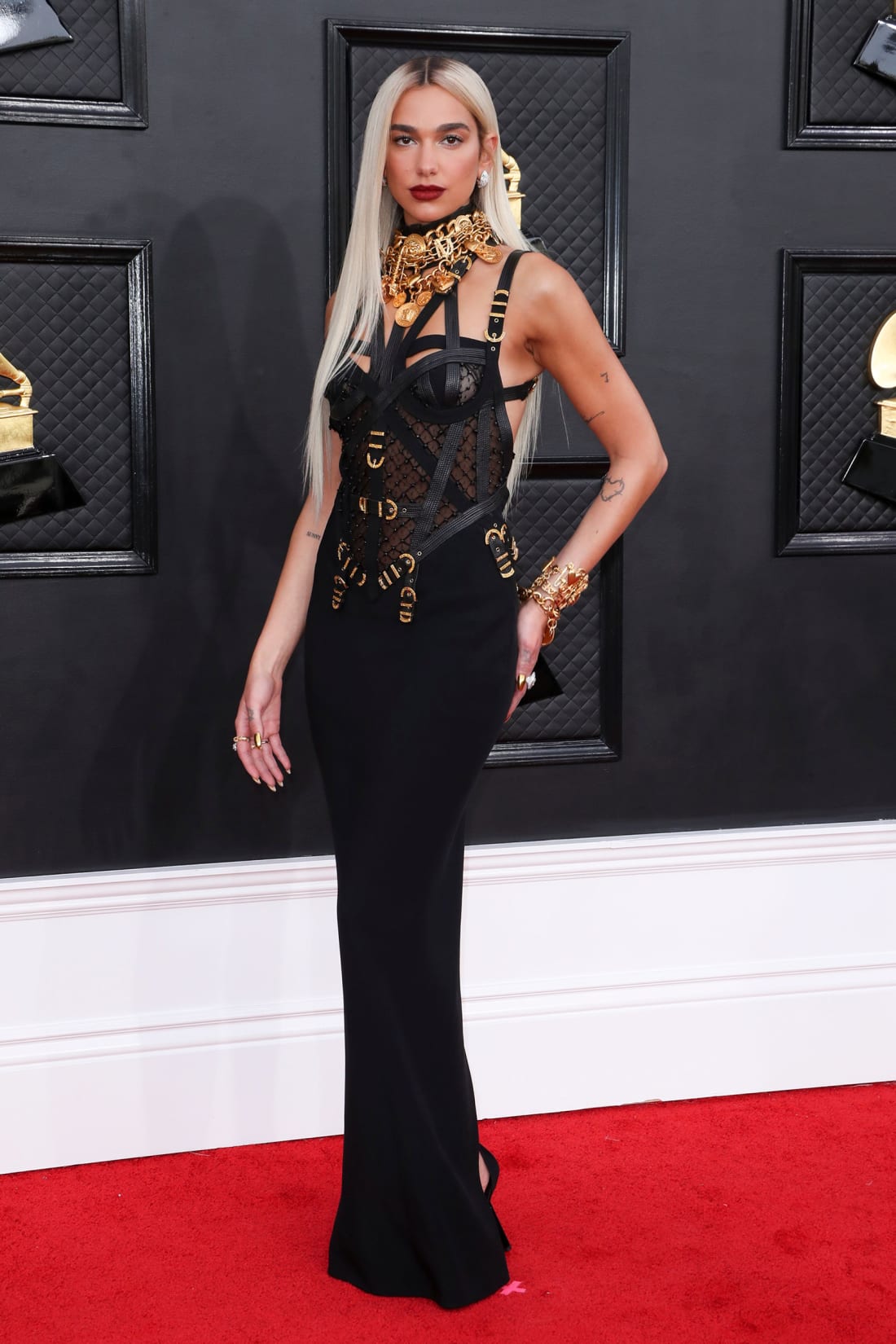 Dua Lipa's dramatic gold-embellished ensemble is a vintage Versace bondage dress. Credit: Matt Baron/Shutterstock
St. Vincent wore a shimmery Gucci gown with ruffled sleeves and trim. Credit: Amy Sussman/Getty Images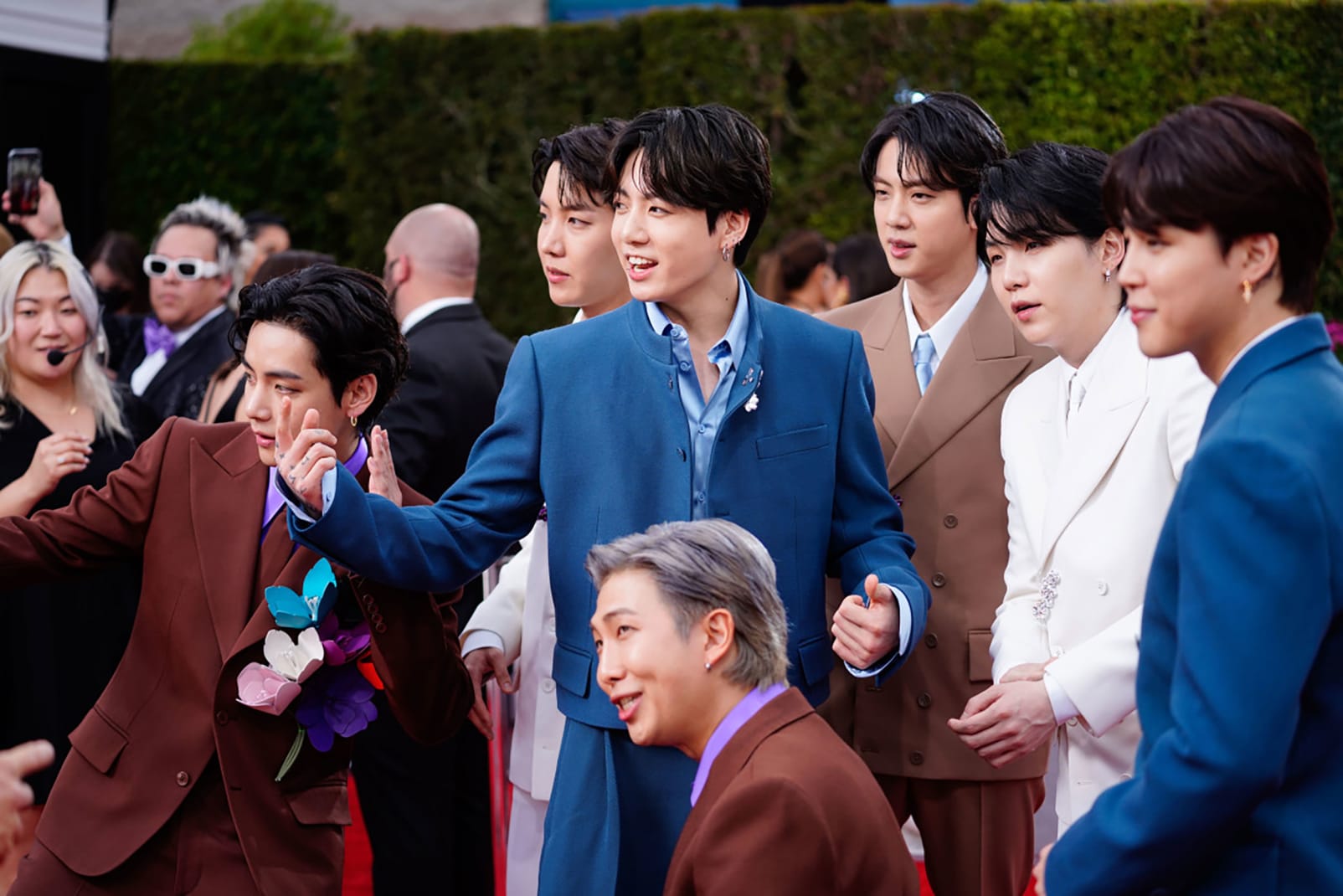 K-Pop sensations BTS wore color-coordinated Louis Vuitton suits in wool and cashmere with floral pins. Credit: Eric Jamison/CBS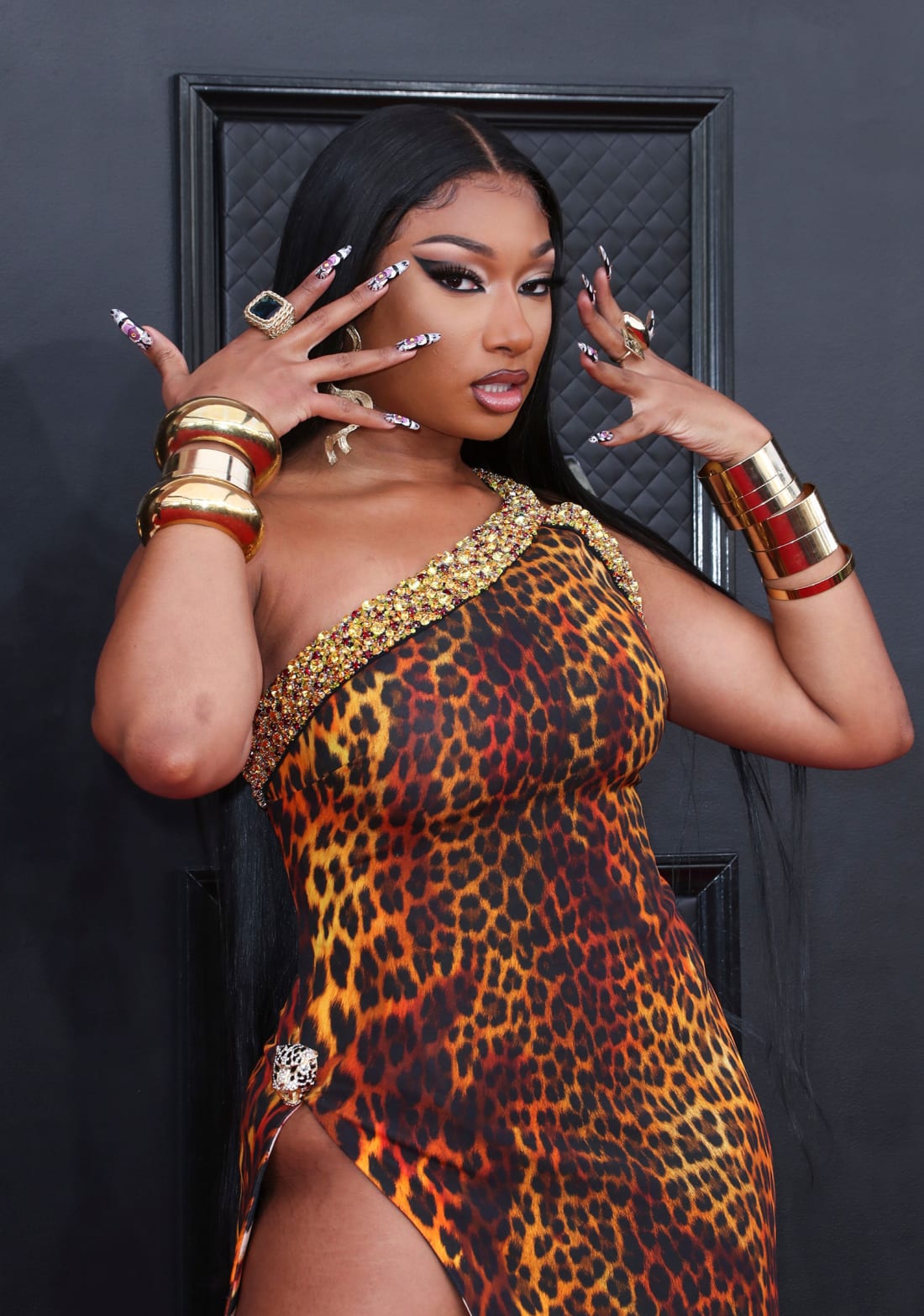 Megan Thee Stallion mixed animal prints in a leopard-print custom Roberto Cavalli dress with zebra lining and a daring slit. Credit: Matt Baron/Shutterstock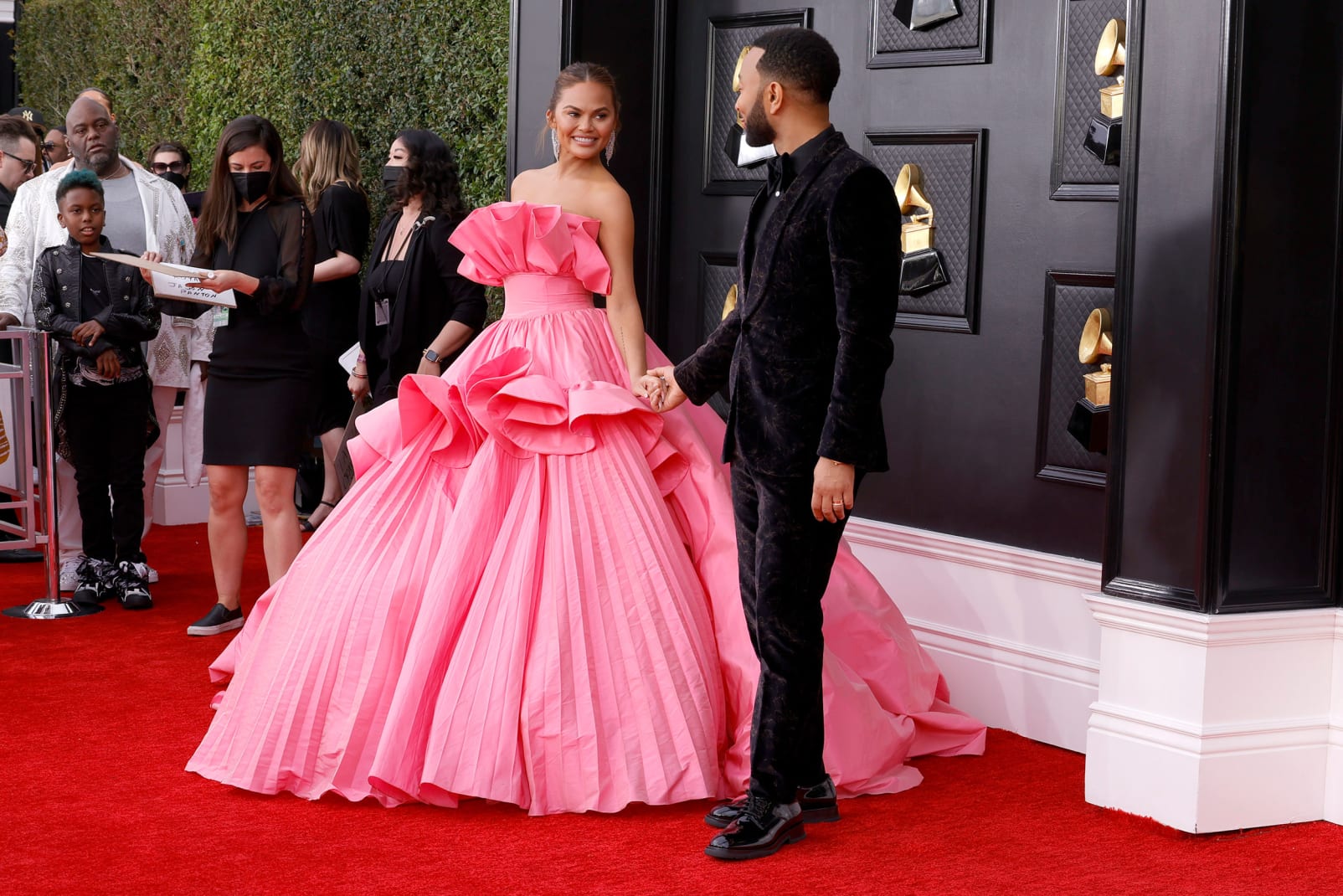 Chrissy Teigen was one of many pink looks of the night in her voluminous fan dress, while John Legend wore a velvet black suit by Zegna. Credit: Frazer Harrison/Getty Images for The Recording Academy
Olivia Rodrigo arrived in an embellished black and pink Vivienne Westwood gown, long black gloves and a matching choker. Credit: Amy Sussman/Getty Images
J Balvin elevated the suit silhouette in a tailored knee-length coat, while model Valentina Ferrer opted for a high-neck layered ombre dress with a gold fringed hem. Credit: Angela Weiss/AFP/Getty Images
Ferrer points at the back of J Balvin's head. Credit: Angela Weiss/AFP/Getty Images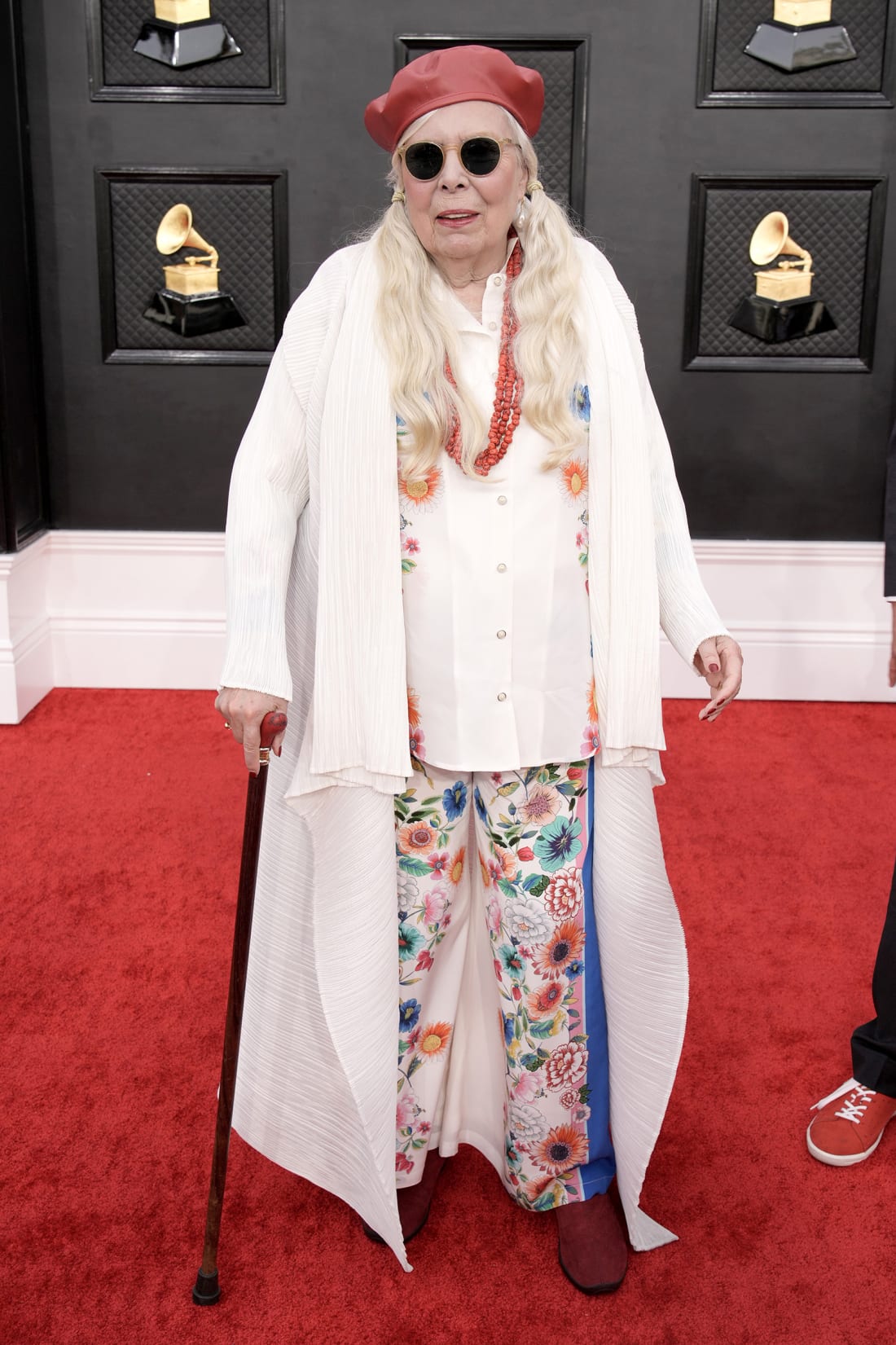 Joni Mitchell wore an all-white ensemble and a signature beret. Credit: Jeff Kravitz/FilmMagic/Getty Images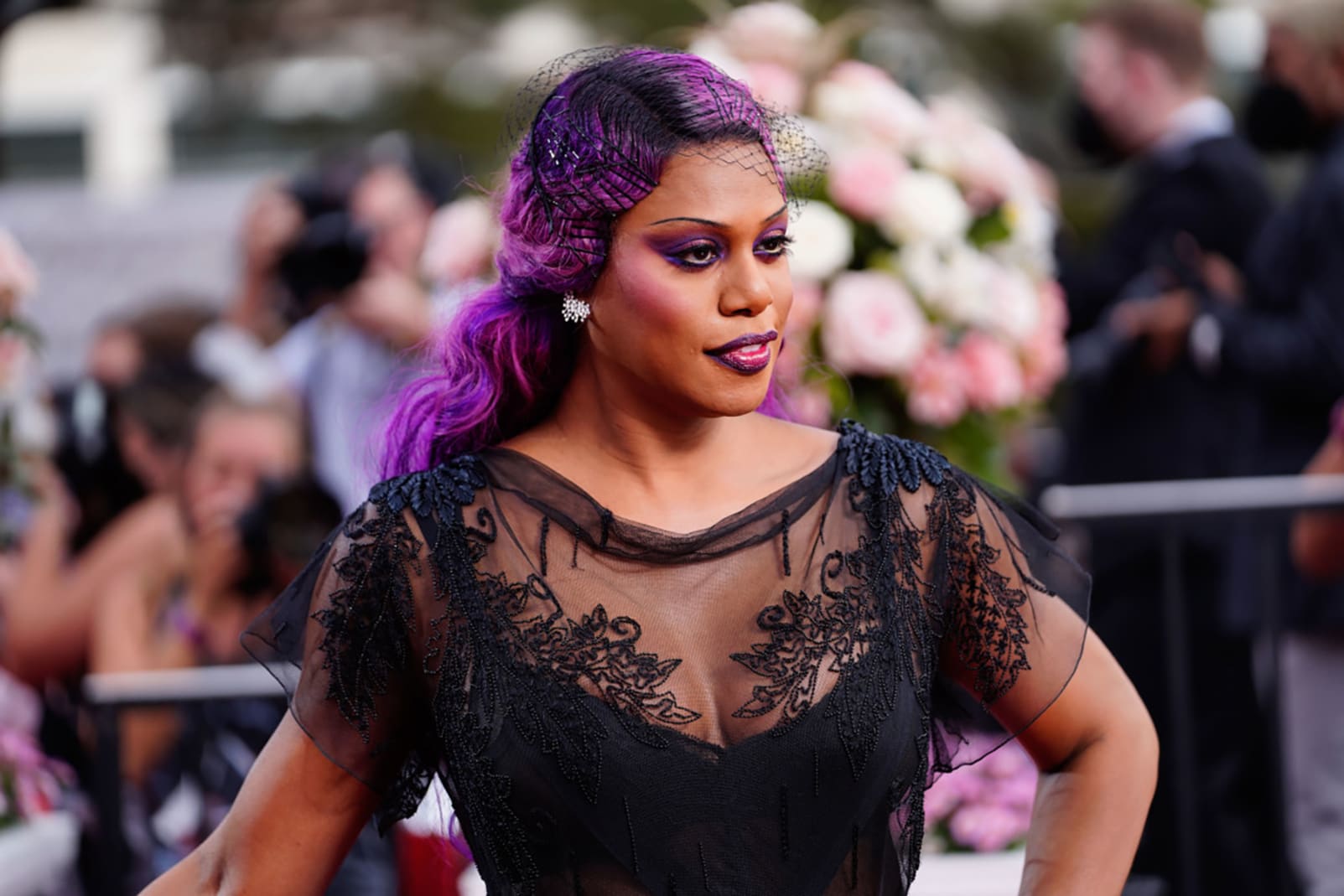 Laverne Cox in a black John Galliano dress, purple hair and dark makeup. Credit: Eric Jamison/CBS Entertainment/CBS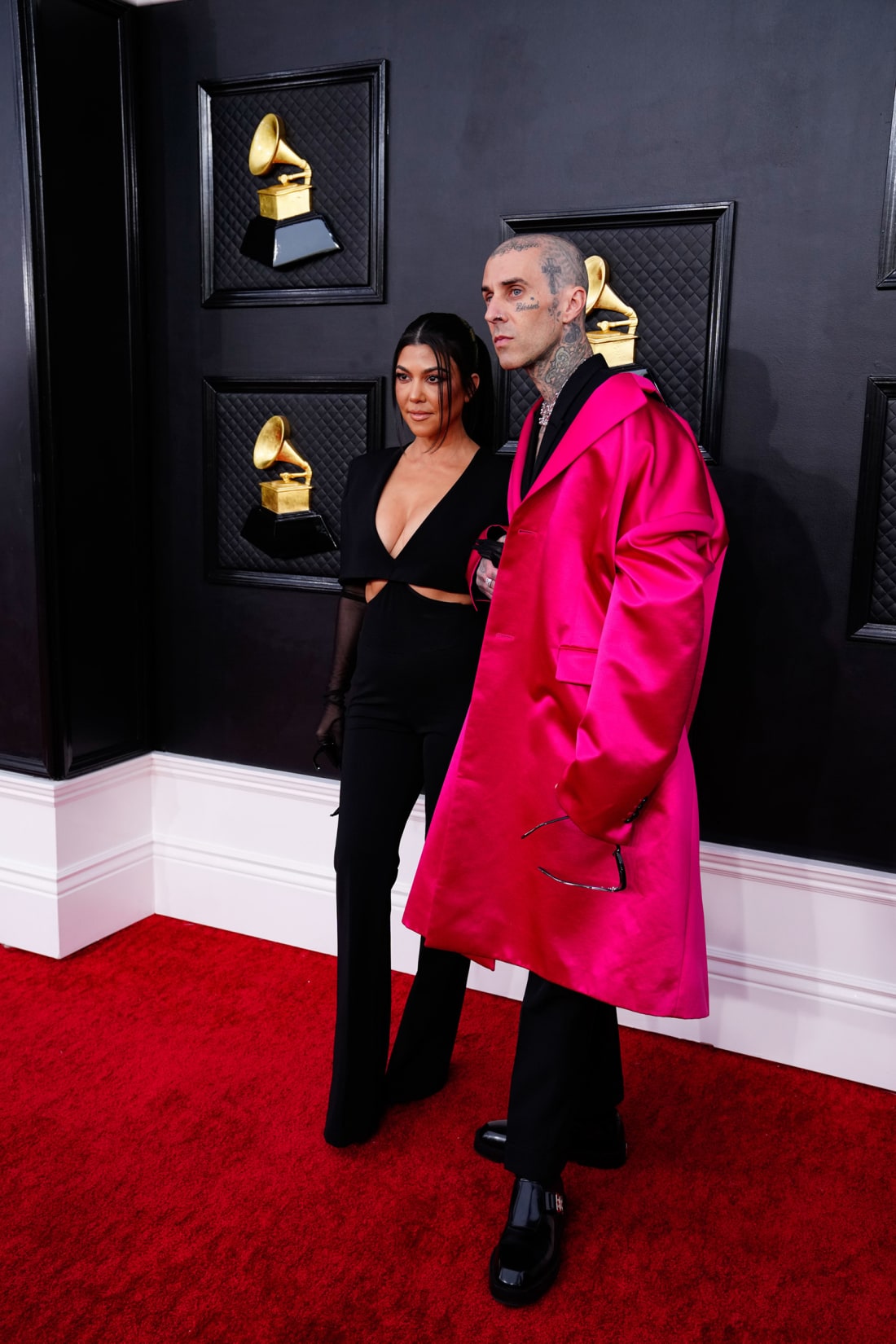 Kourtney Kardashian sported an all-black outfit by Et Ochs, while fiancé Travis Barker wore Givenchy. Credit: Eric Jamison/CBS Photo Archive/Getty Images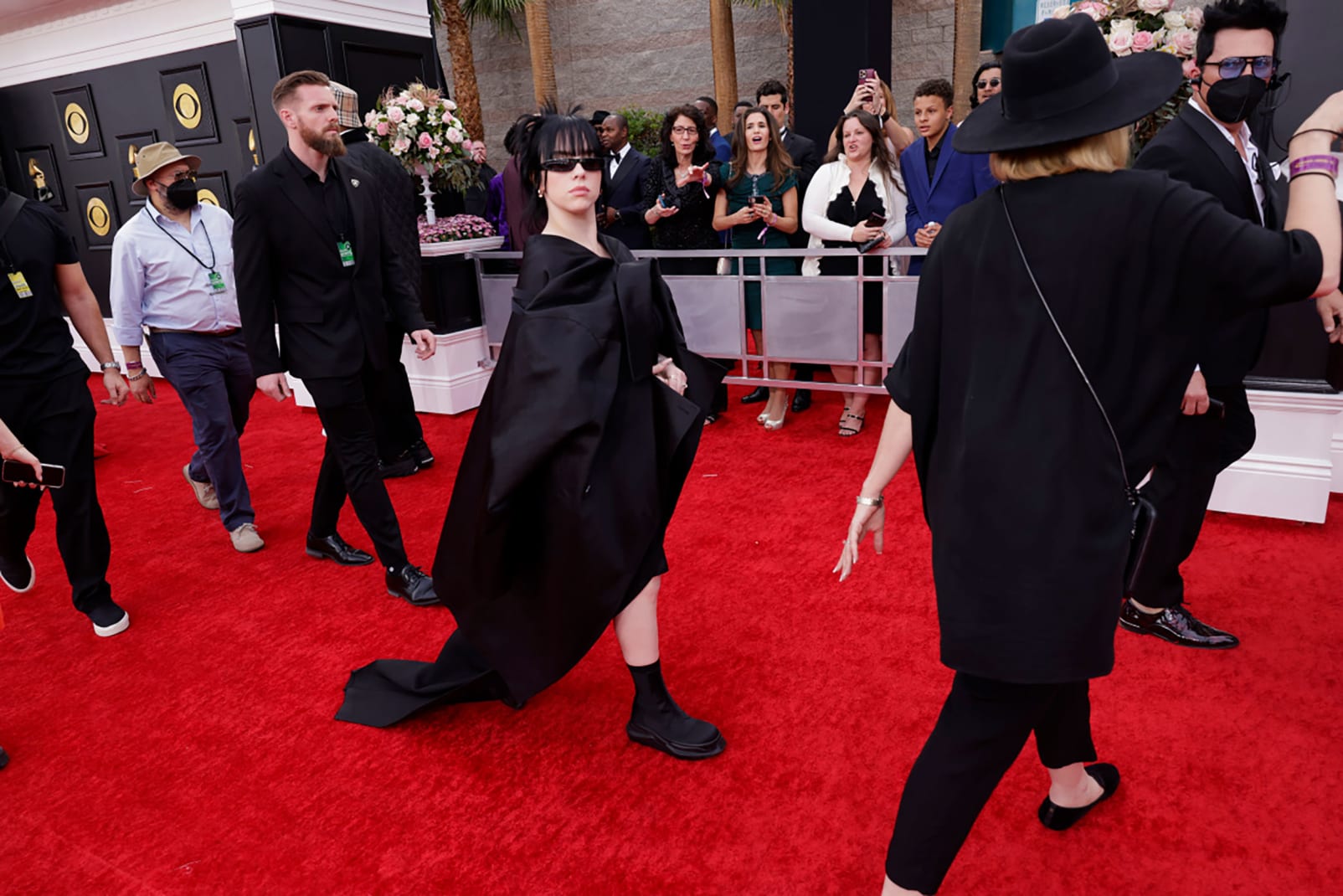 Billie Eilish kept it goth-chic in an edgy Rick Owens ensemble and shades. Credit: Francis Specker/CBS
Billy Porter (left) joined the posse of hot-pink looks of the night with a Valentino ensemble that featured a flowing cape, while Fivio Foreign (right) opted for an all-white look with pearls embellishing his jacket and cowboy hat. Credit: Johnny Nunez/Getty Images for The Recording
Rachel Zegler walked the red carpet in a Dior Haute Couture gown with braid detailing on the bodice and matching Tiffany jewelry. Credit: Jeff Kravitz/FilmMagic/Getty Images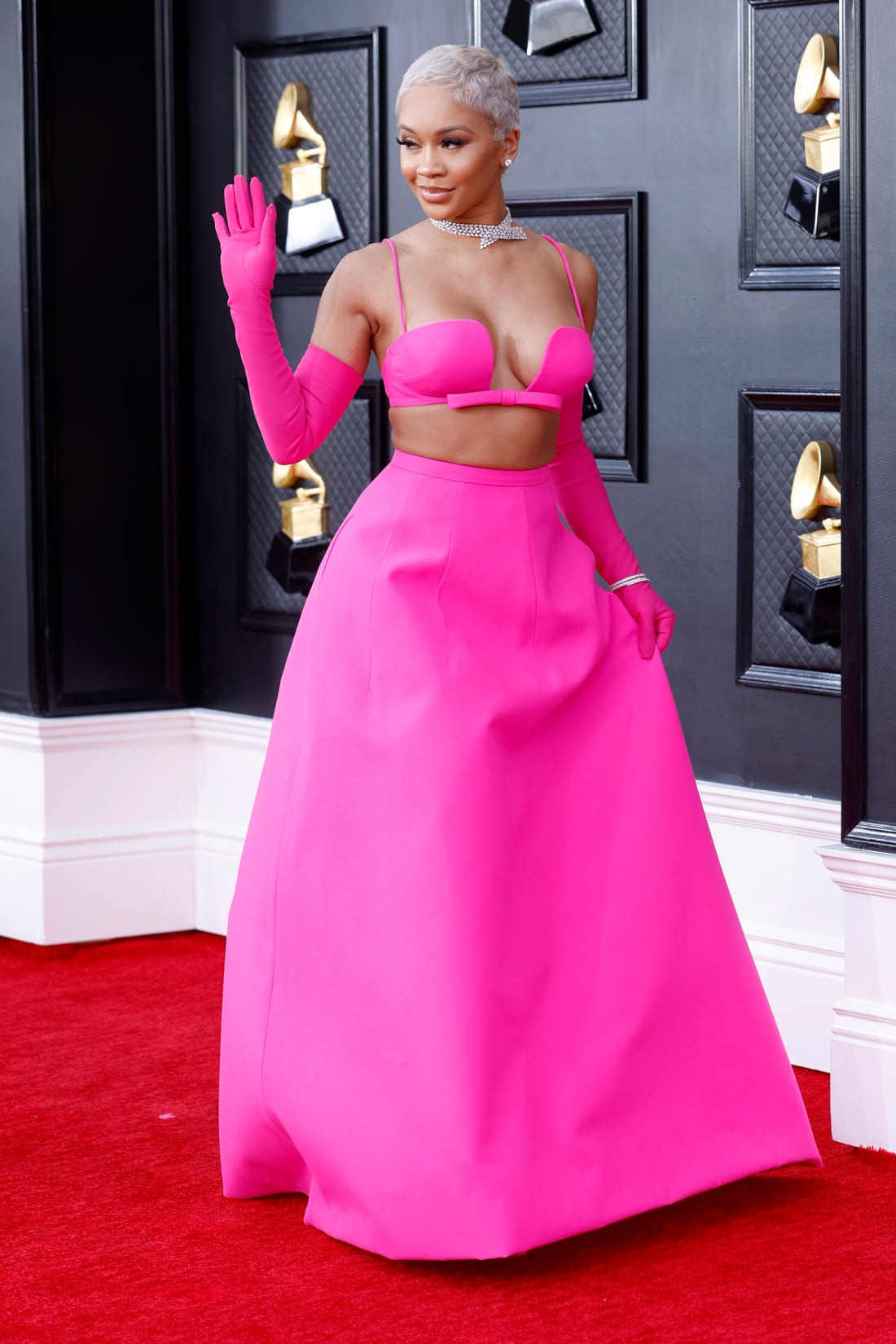 Saweetie arrived in a bright pink Valentino set with a cut-out top, floor-length skirt and long gloves. Credit: Frazer Harrison/Getty Images for The Recording Academy
Halsey wore Presiat with sparky Tiffany & Co. accessories and a wide-brimmed hat. Credit: Jeff Kravitz/FilmMagic/Getty Images
Jared Leto wore a lace top and fur-trimmed jacket by Gucci, having recently played the brand's former chief designer, Paolo, in the movie "House of Gucci." Credit: Eric Jamison/CBS Photo Archive/Getty Images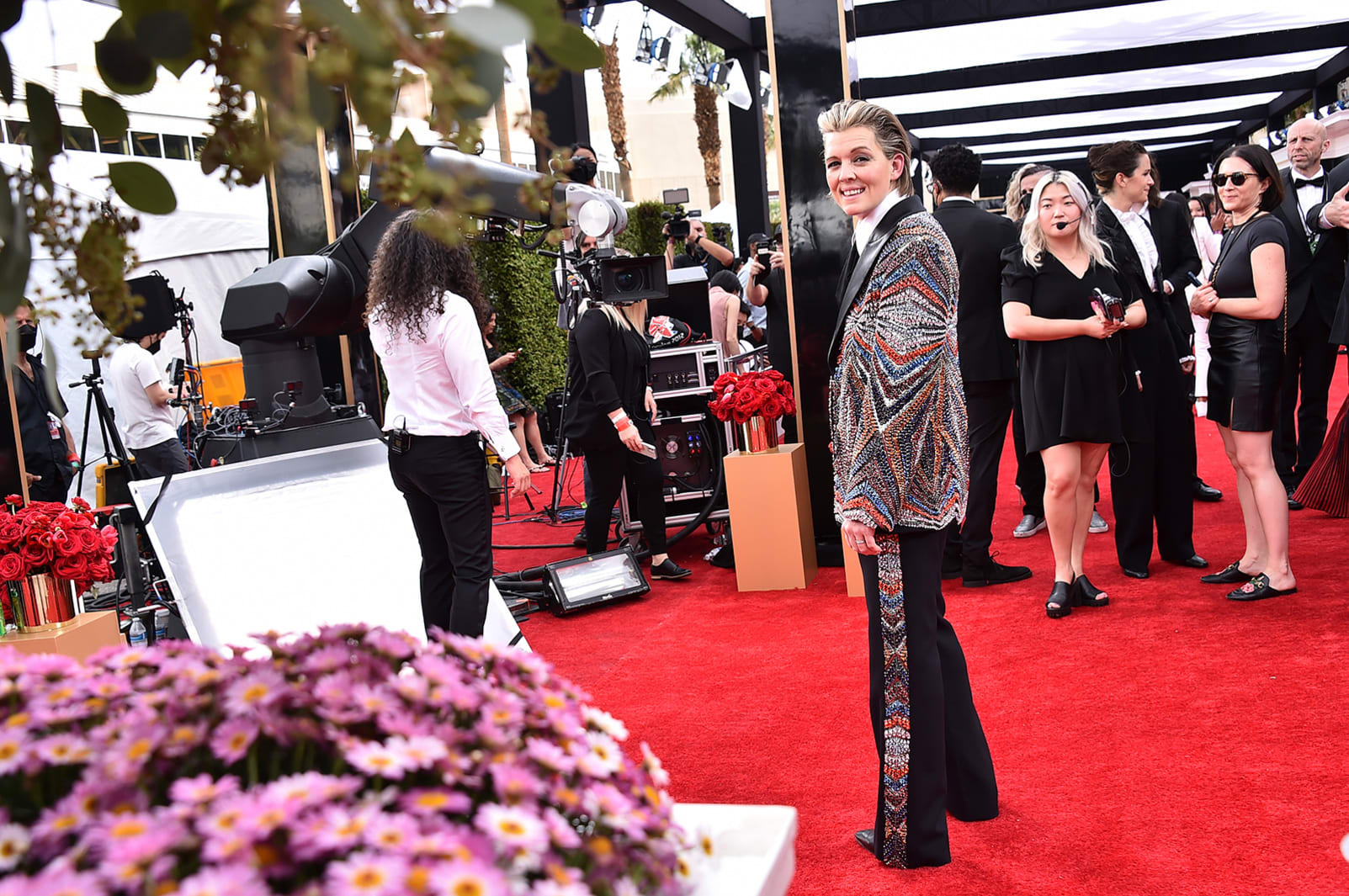 Brandi Carlile walked the red carpet in a multicolored-striped tuxedo adorned with rhinestones and slick-backed hair. Credit: Jordan Strauss/Invision/Jordan Strauss/Invision/AP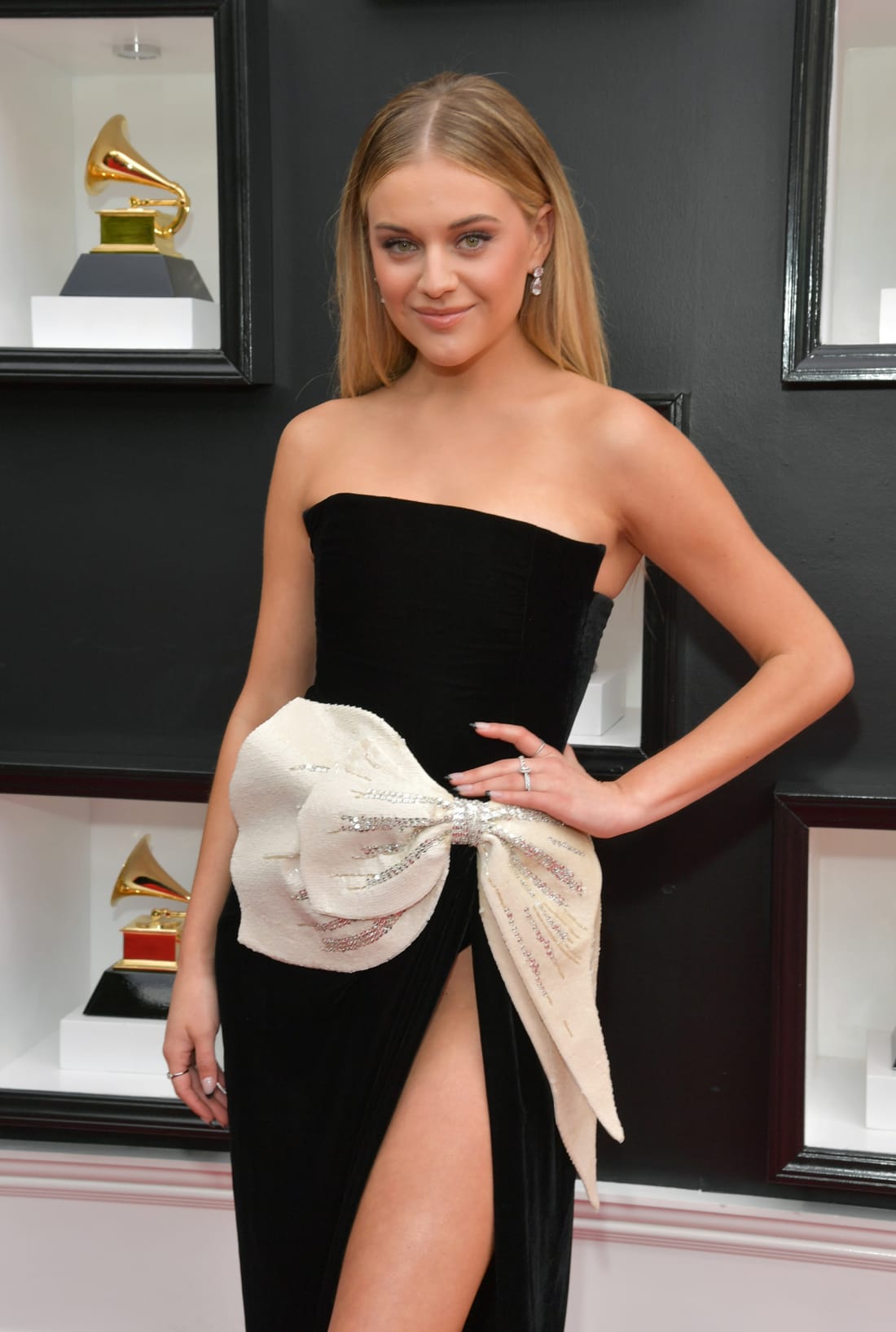 Kelsea Ballerini's black gown featured a dramatic thigh-high slit topped with a white bow. Credit: Lester Cohen/Getty Images for The Recording Academy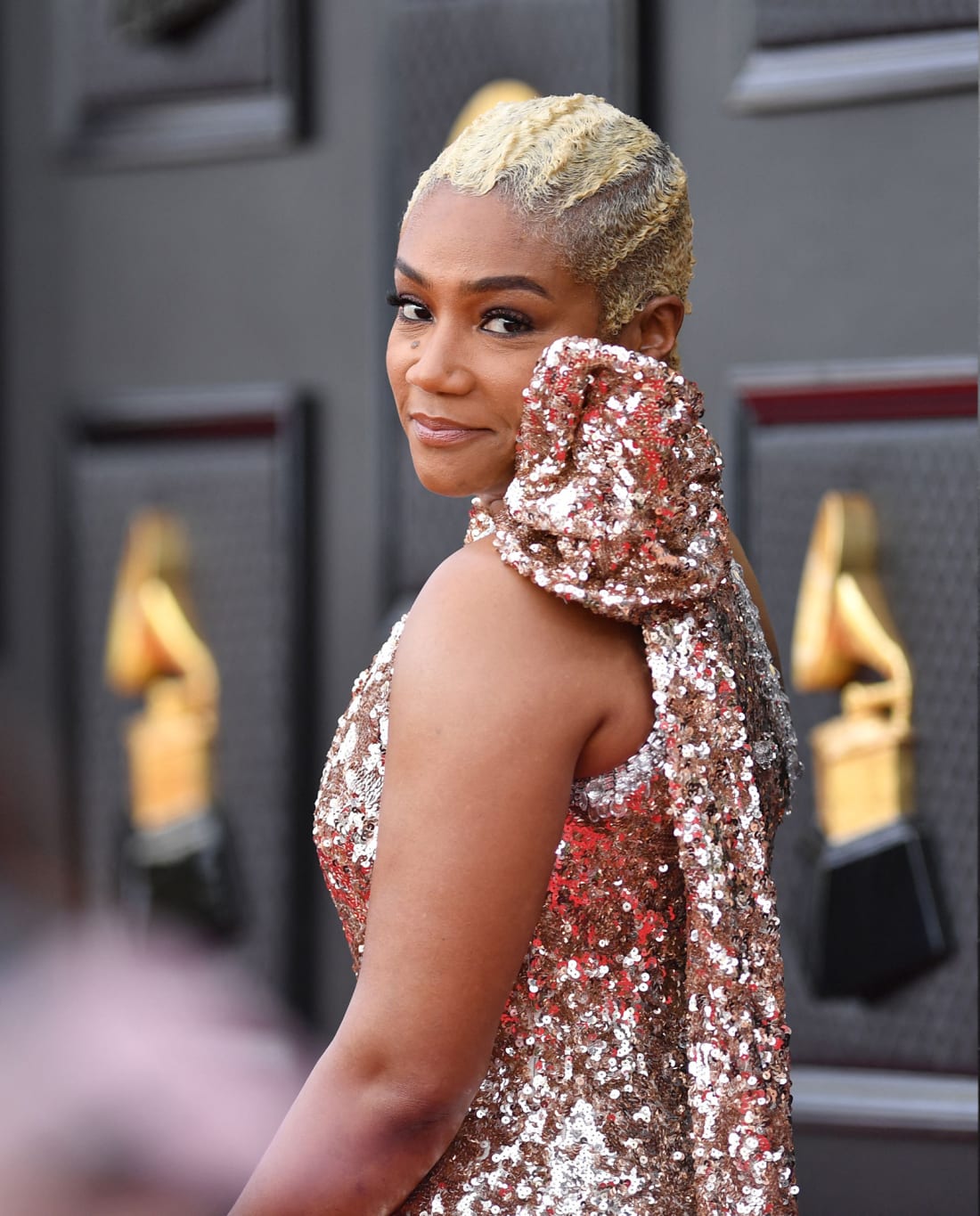 Tiffany Haddish donned a sequined gown to the event. Credit: Angela Weiss/AFP/Getty Images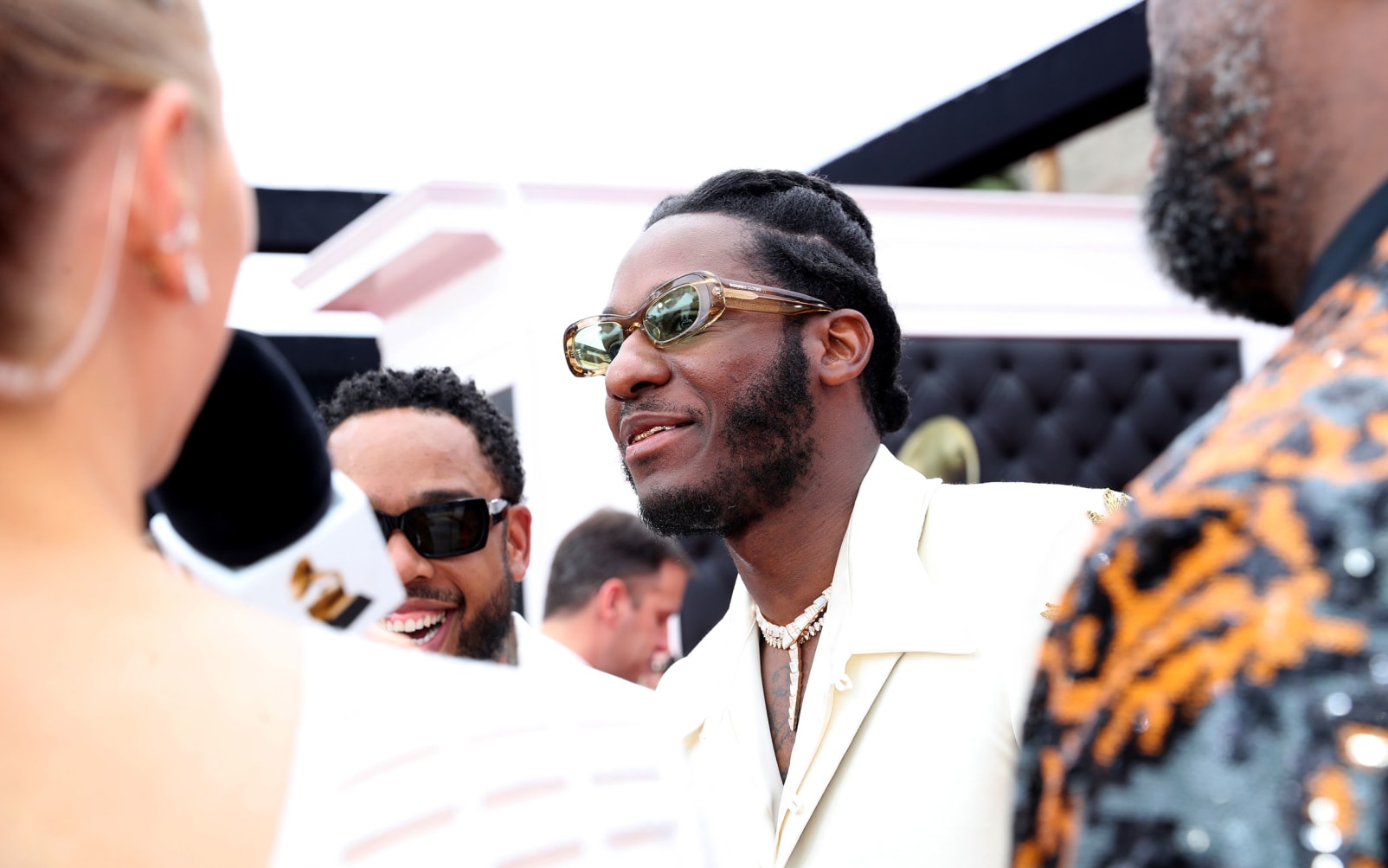 Soul singer Leon Bridges wore a white suit with gold embroidery, flared pants and jewelry by David Yurman. Credit: Johnny Nunez/Getty Images for The Recording Academy
Tinashe wore a pink latex-looking dress with a large bow at the back. Credit: Jordan Strauss/Invision/AP
Muisc producer Benny Blanco arrived in an elaborately embroidered outfit with bejeweled shoes. Credit: Frazer Harrison/Getty Images for The Recording Academy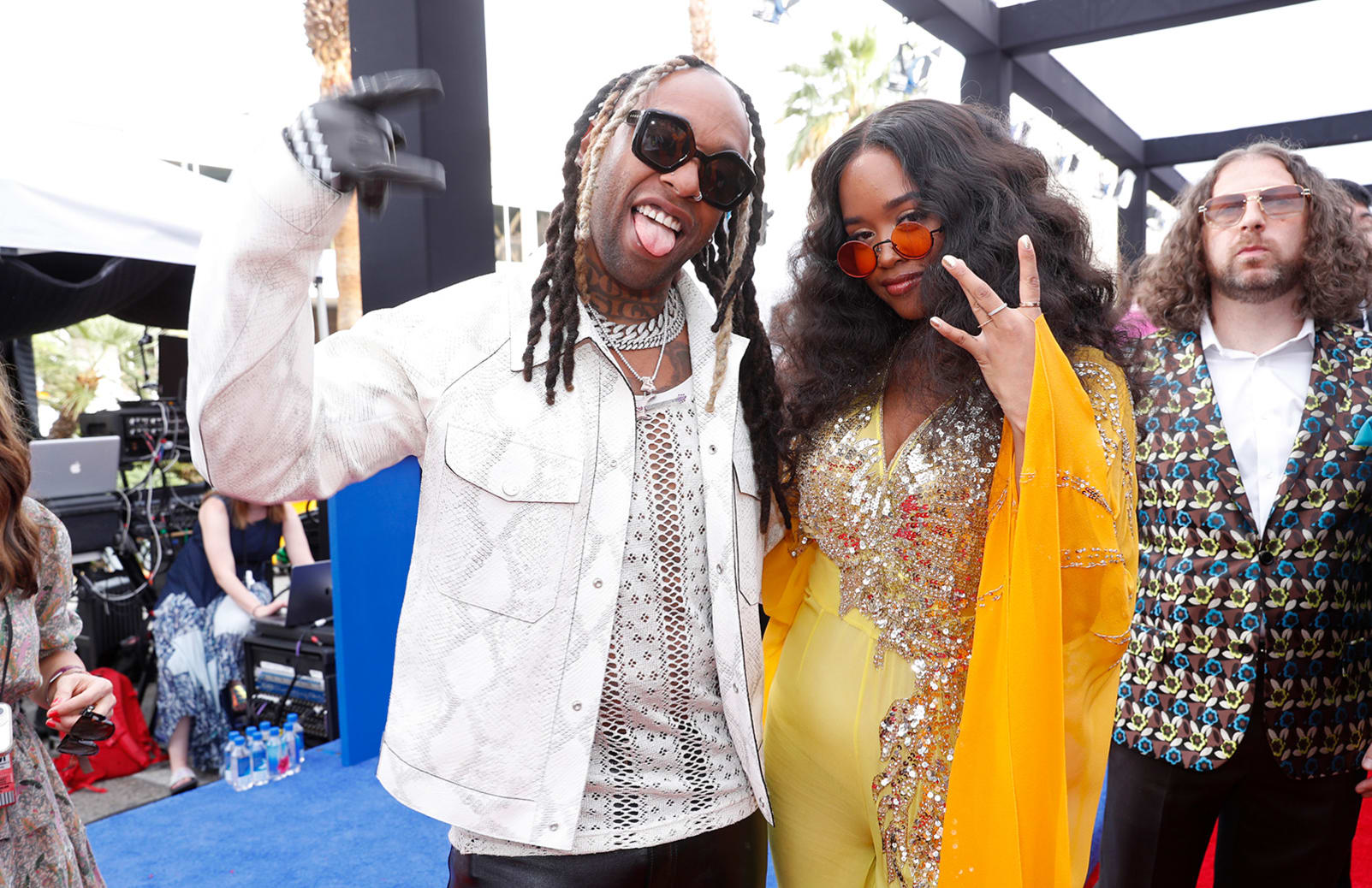 Ty Dolla $ign and H.E.R, who wore a custom yellow-and-orange kaftan jumpsuit by Dundas. Credit: Johnny Nunez/Getty Images North for The Recording Academy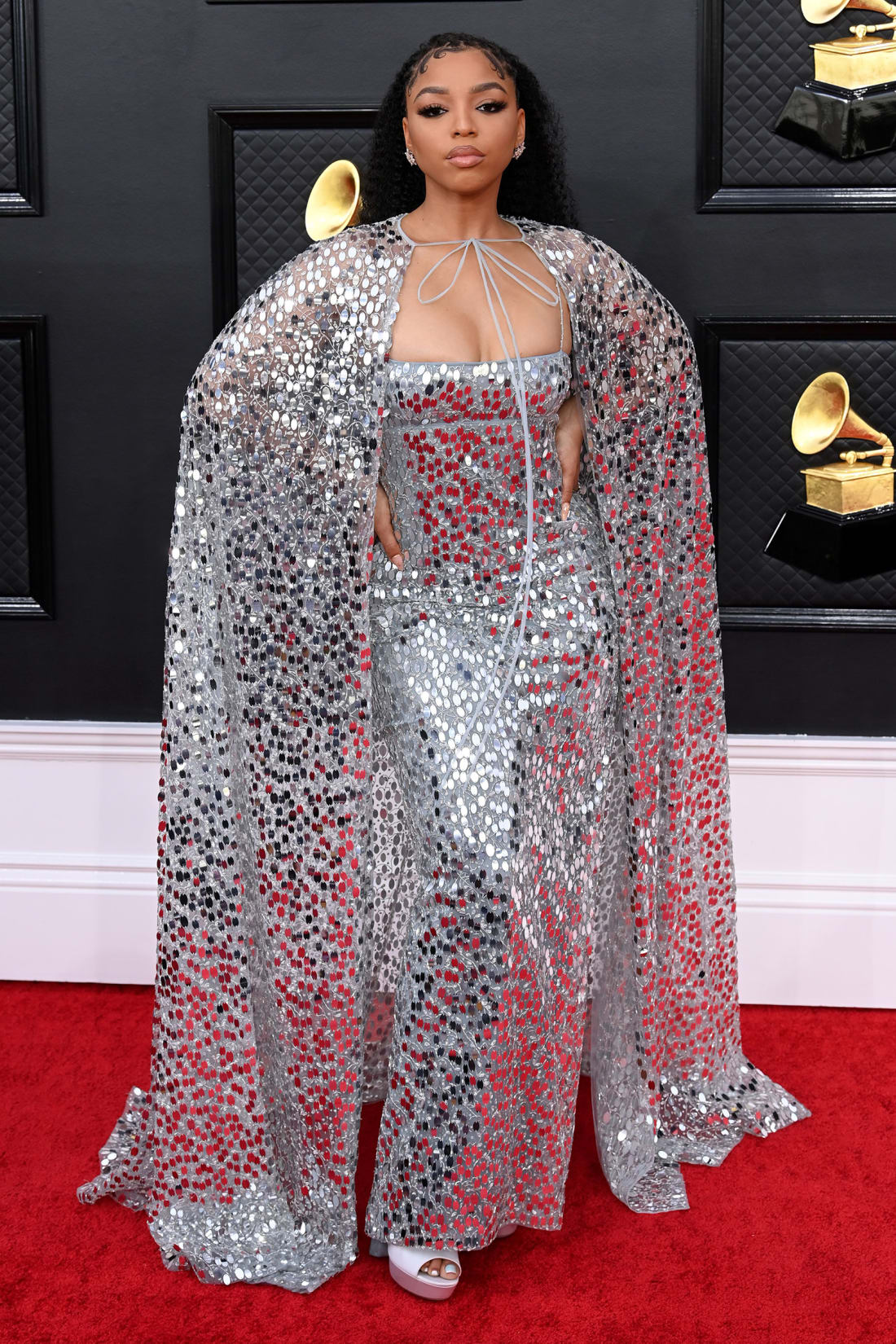 Chloe Bailey wowed in a floor-length silver sequined gown, later tweeting "ima disco ball baby." Credit: David Fisher/Shutterstock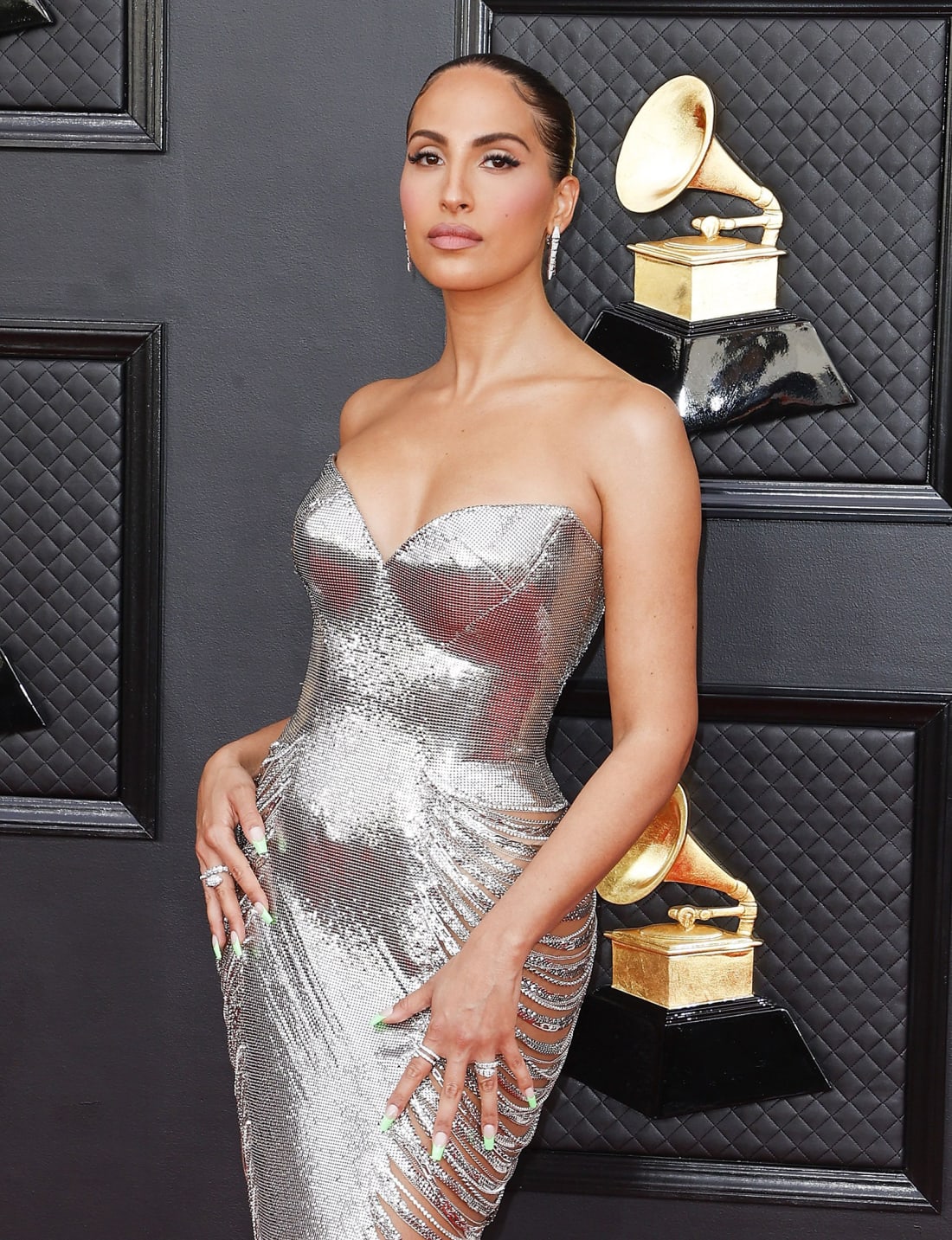 Snoh Aalegra in a custom Versace silver metal mesh dress. Credit: David Swanson/EPA-EFE/Shuttersto/Shutterstock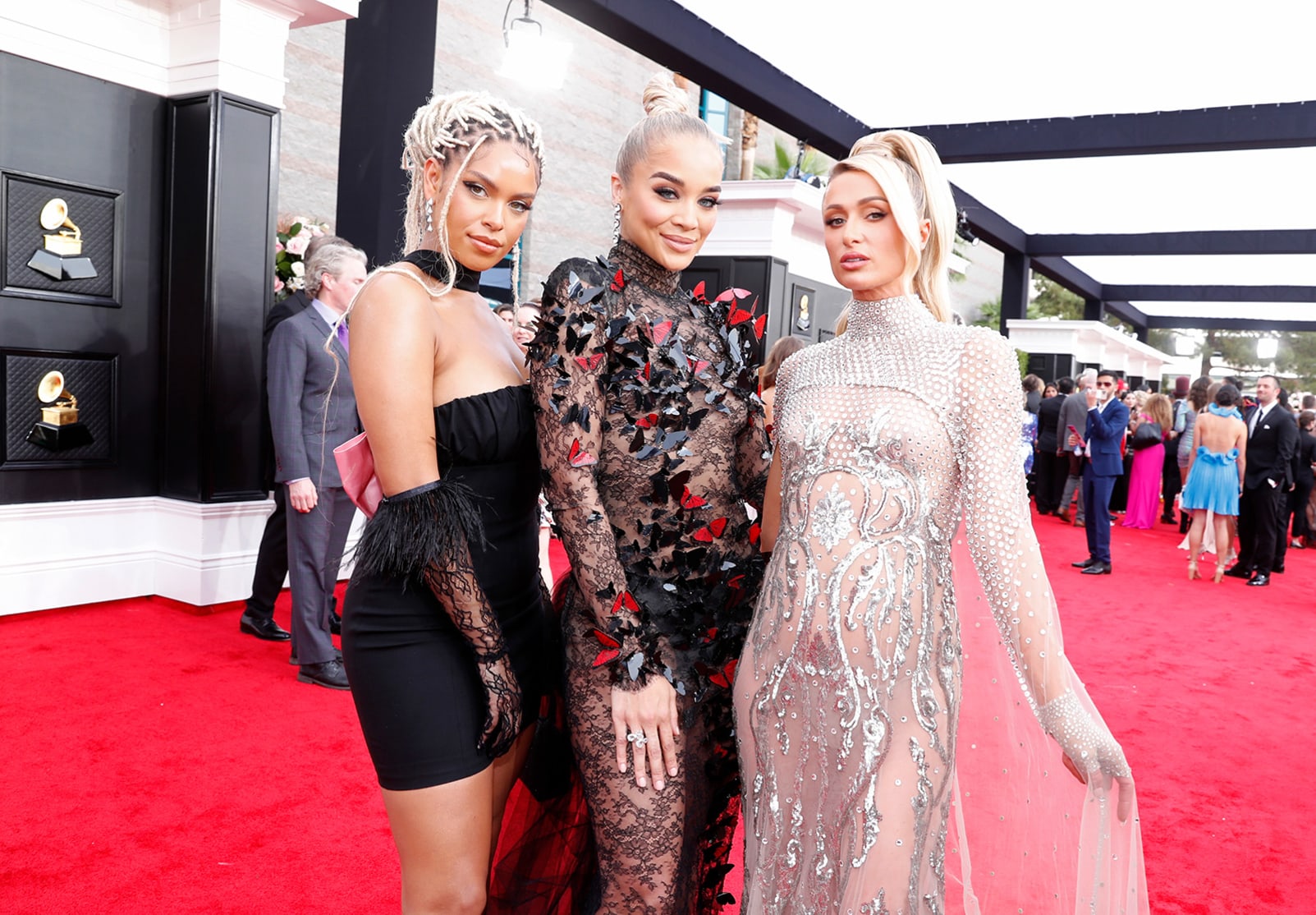 DJ Millie in Nana Jacqueline, Jasmine Sanders in Jean-Louis Sabaji and Paris Hilton in Atelier Zuhra. Credit: Johnny Nunez/Getty Images for The Recording Academy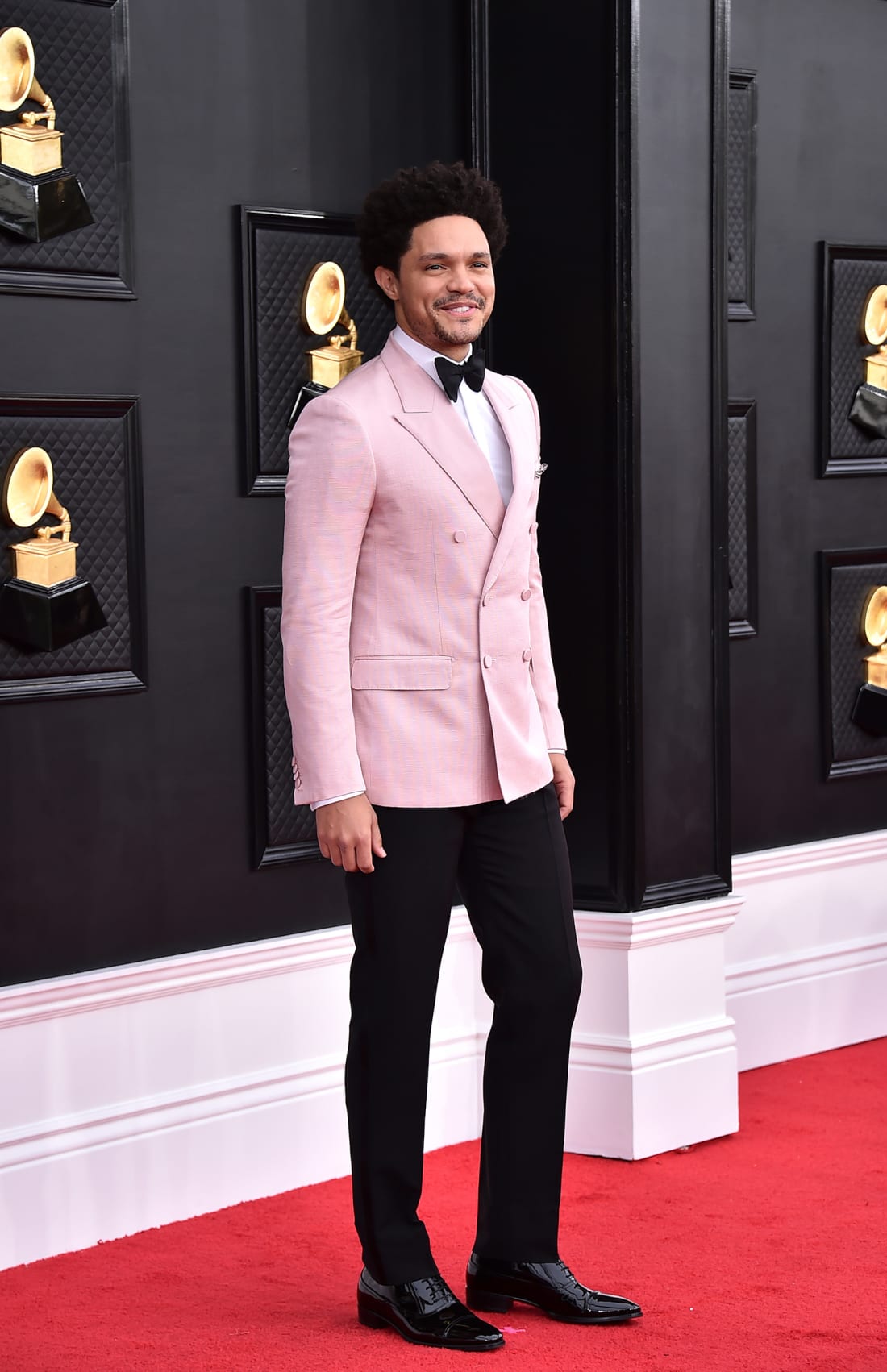 With many stars opting for hot pink, Trevor Noah went for a more of a pastel hue with his suave double-breasted jacket. Credit: Jordan Strauss/Invision/AP
Dancehall artist Spice arrived with a voluminous red robe that she let drop to the ground while posing for photographers. Credit: Angela Weiss/AFP/Getty Images
Questlove kept things casual in a dark patterned jacket and a pair of Crocs. Credit: Johnny Nunez/Getty Images for The Recording Academy
Singer Yola needed help from several other attendees to unfurl the full splendor of her bold, head-to-toe purple outfit. Credit: Angela Weiss/AFP/Getty Images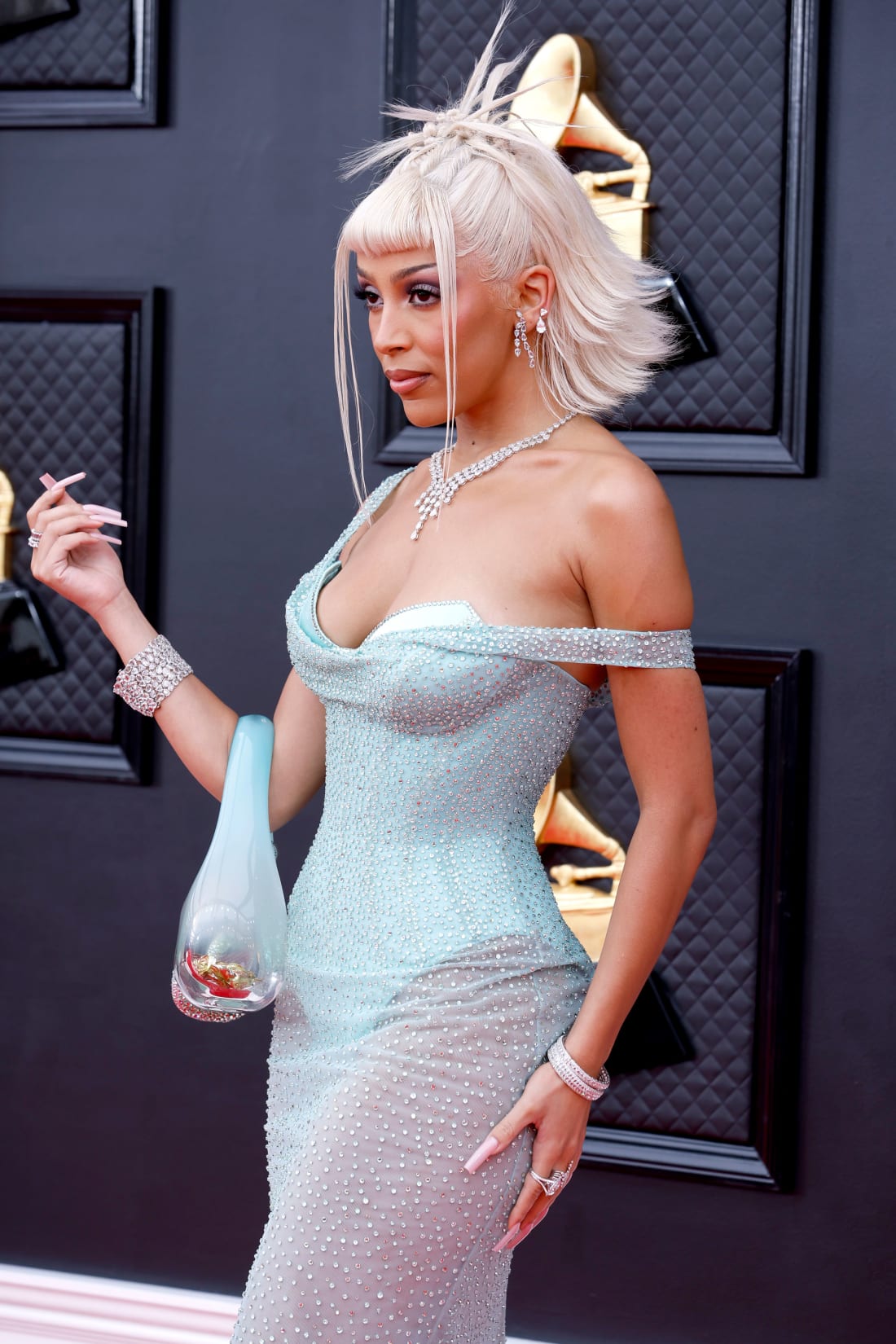 Doja Cat accessorized her sheer, sea foam-colored Versace gown with a glass Coperni purse filled with candy. Credit: Frazer Harrison/Getty Images for The Recording Academy
Country star Elle King wore a wide-brimmed hat with a matching red pantsuit by designer Christian Siriano. Credit: Jeff Kravitz/FilmMagic/Getty Images
SOURCE: CNN